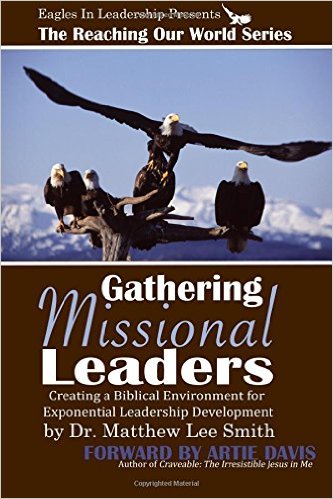 Eagles don't flock! You have to gather them. Eagles soar in a specific habitat conducive to their nature. If you want to gather eagles, you will have to create an environment where they want to be.
Gathering Missional Leaders explores the elements necessary to build the habitat that will attract a strong and vibrant coalition of men and women who want to reach their world in their generation!
With that in mind, this book is set up as a guided study. Whether you study alone, with someone, with your small group, leadership team or entire congregation, you will appreciate the discussion questions after each chapter. They are designed to stir your soul and allow you to hear the Spirit of God's heart and desire for your life.
Gathering Missional Leaders will help you do two things as you build a missional team of eagle leaders around you. First, we will help you gather a Grand Alliance. These issues help you create the habitat where "eagles" long to reside.
Second, we will help you focus the Grand Alliance by target your community through decisive action using twelve key focal points. Again and again, you will return to these focal points as you take new ground and train new missional leaders for the Great Commission of Jesus.
Order your copies of Gathering Missional Leaders today … reach your community this year! 
"If learning to be a missional church is the key issue of our time, then it begs many strategic questions about the formation of missional leaders.  In these pithy reflections, Matthew Smith provides some really significant clues to the key issues we must face, as well as some practical suggestions as some ways forward."
"Rich, straightforward and practical, Matthew Smith has given us a gift with this book. He writes with clarity from his own experience and shows how we can gather missional leaders to serve the cause of Christ in a powerful way. The contents of this book will lift hearts and communities to experience the love of Jesus."
"I write a lot about leadership in the church. I'm probably passionate about this subject, because I sense such a great need for godly, missional leaders. We need men and women willing to walk by faith and challenge a generation to be more like Christ. Matthew Smith has the heart and tools to mentor young leaders and he's doing so in his new book, Gathering Missional Leaders.  This is a needed book and will challenge you to live more boldly for Christ and the Kingdom."
Brandon Cox, author of Rewired, Pastor, Church Planter, & Community Facilitator for Pastors.com
"In my work with Pastors around the world, there are very few I've met that have the ability to organize huge ideas and share them in a way that makes them easy to apply than Dr. Matthew Lee Smith. Matt has been a help and an encouragement to me, and I'm excited to see how Gathering Missional Leaders will be used to reach the world. Every Pastor needs this on his shelf!"
"Matthew Lee Smith writes a lot like he lives—with tons of passion and energy. And it's contagious! Gathering Missional Leaders is a clarion call for those who long to break out of the church-as-usual-mode and accomplish great things for the kingdom. It's also an excellent resource for groups to work through, as Smith has included insightful discussion questions throughout. This book will stretch your vision for ministry and inspire you to connect with other missional leaders."
"Matthew Smith picks up where the "Purpose-Drive Life" left off. Smith has created a reproducible Missional Movement plan for the local church."
"The passion of Matthew Smith will awaken the sleeping giant of the local church to the reality of its God-ordained mission."
"Are you ready to get your "stuck" church moving forward as a Missional team? Matthew Smith leads us down a pathway dealing with the key issues involved and clarifying our focus toward building and gathering a Missional team that gets the mission accomplished."
Tom Cocklereece, Author of Simple Discipleship, Senior Pastor of Shady Grove Baptist Church in Marietta, GA and CEO of RENOVA Coaching and Consulting/Simple Discipleship http://www.simplediscipleship.com/ 
"Dr. Matthew Smith has done it again. His book Growing Missional Leaders was good, but his new book Gathering Missional Leaders is even better. Perhaps because the same questions raised by Smith about missional churches are relevant to disciple-making churches.
"Each chapter begins with a missional premise to set the stage for discussion. All of the premises are right on target to developing and gathering a great leadership team for a missional church. However, one is particularly notable as it reminds us of the reality that Christians are in a spiritual war centered in enemy territory. Premise #12 is: Missional leaders understand they are soldiers for Jesus Christ and, as such, are invading a hostile territory to rescue men, women teens and children held hostage. It is imperative that today's church awaken to meet tomorrow's challenge of the Great Commission.
"My readers know I am passionate about motivating Christians and the churches to get busy doing the Great Commission—making disciple-making disciples. Recently I began challenging Simple Discipleship churches particularly to develop Special Ops Discipleship Teams that consist of certified disciple-coaches. Gathering Missional Leaders is an excellent guide for developing and maintaining your Special Ops Discipleship Team so you can launch a discipleship revolution in your church.
"Dr. Smith includes good questions for study and reflection at the end of each chapter. Form your vision team, read and study Gathering Missional Leaders together, and make disciple-making disciples! I heartily commend Dr. Smith's book to leaders who are looking for a great training resource."
Scott Couchenour, Life Coach at ServingStrong.com, VP Operations at Cogun.com
"This is serious stuff in this book. Dr. Matthew Smith has not only addressed the importance of living missionally, but has provided timeless and relevant guidance for those set on taking the challenge to reach a world for Christ, with Christ. From the start Dr. Smith addresses the leader's heart in the chapter entitled, "It's Not About You!" He says, "Missional leaders realize the Master has set the agenda." From there, Dr. Smith proceeds to give clear and effective insight into all the salient aspects of being and leading missionally.
"Look, we don't have a lot of time on this earth. Even if the Lord tarries for another 100 years, if you are reading this endorsement you have a limited lifespan within which to be used by God. If you're serious about maximizing God's impact through you, this book will be a well-worn item on your desk.
Walter White Jr. (Special Assistant, Inner City Impact, Chicago; Adjunct Professor, School of Religion, Liberty University Online)
"Gathering Missional Leaders is a must read for anyone with a sense of call to reach their community with the life transforming power of the gospel. Birthed out personal experience, decades of hands-on ministry , and a clear understanding of the Biblical mandate, this significant resource will inspire you, challenge you and instruct you on what it means to purposely and authentically be "on mission" for Jesus Christ in the 21st century."
Paul Banister, Pastor, Cornerstone Church in Sandwich, Illinois. www.cornerstoneofsandwich.com
"Matthew's book is a mountain of missional motivation.  It is Biblically sound and practically written; a map of hope that helps bridge the call to mission with developing a team to carry out the Great Commission.  If you don't want to try to soar alone in mission, read this book!"
Richard Jarman, Pastor, Touch Point Church, Bell Gardens, CA, http://www.touchpointbellgardens.org/
"Dr. Matthew Lee Smith is a blessing to the body of Christ! He has a deep passion to see lives changed by the gospel of Jesus Christ. He knows that the local church is the best place to bring followers of Jesus together, and train them to become leaders who will reach their communities (and the world) for Jesus.
"Gathering Missional Leaders was born from his desire to see local churches become training centers where people can learn to "go and make disciples of all nations." This book is not a dry, academic text designed to teach you facts about discipleship. Instead, it's a field manual, a how-to guide. It can be (and should be) used by pastors and other church leaders who want to build a climate in their church where the next generation of mission-minded Christians can come together and thrive.
"Gathering Missional Leaders is designed to be used as a personal or small group Bible study. Each chapter gives you a unique insight into creating and sustaining an environment conducive to mentoring people who want to follow God's call to seek and save the lost.
"Rather than give you a synopsis of the book, let me tell the two things I appreciate most about Gathering Missional Leaders. The first is Dr. Smith's faithfulness to Scripture. This man loves God and His word. He truly believes that everything we do as Christians should have its foundation in the Bible. Thus, what you get in this book are not his theories or ideas. What Dr. Smith delivers are timeless principles from God's word.
"The second thing I love about this book is the way Dr. Smith applies those timeless principles to the way we live out our calling as Christians. God doesn't expect us to merely study His word. We need to be doers of the word, and not hearers only. Dr. Smith lays out concrete steps that any church can take to build a culture where missional leaders can grow and thrive.
"I believe that Gathering Missional Leaders will be a great blessing and help to any church, large or small, that acts on the ideas it contains. That's why I recommend it to you. Read it! Study it! Apply it! God will use it for your good, and His glory."