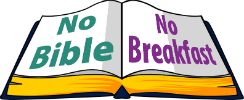 Years ago I established a personal disciple that yielded immense benefits to my life. It was a simple discipline, but it was not always easy. I chose not to eat breakfast before I had taken time to read my Bible.
Life has a way of interfering with our disciplines. When Melodee got sick last year, and we begin to travel, the "No Bible, No Breakfast," discipline fell away.
It was this past week, when one of my former students and a leader in my church, Kuya Fred Sangalang, posted about the "No Bible, No Breakfast," discipline. He had learned it from me over a decade ago. He was talking about its benefits. It was at that moment, I realized that what had become a tremendous blessing to my life in years past had fallen away because of life's interruptions.
So this morning I chose to once again, afresh, restore that discipline to my life. I know what that means. It means I choose to follow the path laid out by Jesus:"If anyone wants to follow after me, let him deny himself, take up his cross daily, and follow me." (Luke 9:23, CSB) I also choose not to follow the grumblings of my tummy and bring it into submission. Yes, I have gained a few pounds lately listening to its demands more than being disciplined. Thank you for asking.
Perhaps you'll think about your disciplines as a result of this post. Maybe it's time for you to set aside some of your life's interruptions, and discipline your self so that you can enjoy the abundant blessings that naturally flow from great choices. If so, leave a comment. I'd love to pray for you as you pray for me.