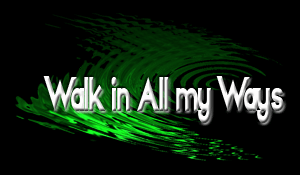 Wisdom, long life, riches … what's your life goal? For Solomon of old, he just needed to get through each day without messing everything up in his job! How about you?
I'm Dr. Matthew Lee Smith and I want to share some Hope For Today to remind us that We need to walk in God's Ways!
 Waking up the morning after his dad died, Solomon must have felt the entire weight of the Kingdom of Israel on the shoulders of this new king. He prays, after a generous offering to the Lord, asking for wisdom to do his job well, to not mess it all up! And God responds,
"I give you a wise and discerning mind, so that none like you has been before you and none like you shall arise after you. I give you also what you have not asked, both riches and honor, so that no other king shall compare with you, all your days. And if you will walk in my ways, keeping my statutes and my commandments, as your father David walked, then I will lengthen your days." (1 Kings 3:12–14, ESV)
Talk about winning the Trifecta! In God's answer to Solomon, we discover Hope For Today for our lives!
God longs to give us what we need to do our jobs well. Our job is our mission field. When we focus on the needs of those around us – physical and spiritual – and ask God to supply us with the wisdom to do our work well, God's heart is happy and, just maybe, he will give us more than we asked for. God provides for those who choose to serve the least and the lost in their workplace, neighborhood or classroom.
Hope For Today is a part of the ministry of Eagles In Leadership. If you would like to know more about the hope God gives and His abundant life through Jesus Christ, I would invite you to check out our website: Eagles In Leadership . org; that's Eagles In Leadership .org.