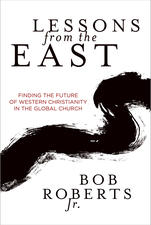 Disturbing. Dynamic. Directional. These thoughts ran through my mind as I read – strike that – devoured this book. I am not one to gush over a book, but Lessons From the East is a must read this summer!
With Post-it® notes sticking out of so many pages, highlights and comments graffitiing my tattered copy of Bob Roberts, Jr.'s book on Finding the Future of Western Christianity in the Global Church, I want to heartily recommend it to passionate men and women of God at any level of faith and ministry.
If you are as disturbed as I am that we have more resources than any generation of the church in the past two millennia, and yet, we are slipping quietly into oblivion as we increasingly make little or no impact on our culture, then THIS is a must-read and must-apply book!
Bob taps into all the key elements of a dynamic, influential church in a local community and a global world – truly what glocal is all about … what Jesus envisions your church to be! He turns our hearts to …
Partnership in the local church – working with God to accomplish the real-time imperatives and directives of the Kingdom of God through His people
Discipleship of the local church – refocusing God's people on the 1st Century mission and vision that beats in the heart of the Great Commission of King Jesus
Gift Mix resourcing the local church – evaluating the kind of ministry God is calling specific local churches to and breaking free of the "cookie cutter" assembly line methodology of religious programming that we are drowning in today all across our country
Abandoning one's life to the ministry of the glocal church – shedding self-indulgence and a "me-oriented" religion for a King-oriented faith that sees the neighbor across the street and across the ocean as their responsibility
Buy this book! Absorb this book. While I don't agree with everything in this book – and you won't either I guarantee – we need to listen to the whispers of the Spirit as we read, get alone with the Father and take our directions again, afresh, from the King of the kingdom, the Lord Jesus Himself. This book will surely be one of the vehicles God uses to refocus your soul on the heart of God for the world we live in … it has been for me!