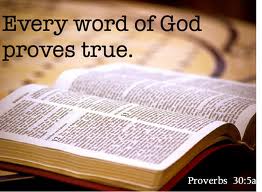 What can we depend on today? People lie to us every day – some haphazardly, others with malicious intent. Even promises made by our politicians evaporate faster than water on a Phoenix sidewalk!
I'm Dr. Matthew Lee Smith and I want to share some Hope For Today to remind us that God's Words Are True!
Awash in the spray of the Lord's pronouncement of the enduring legacy David's progeny would have, the king of Israel responded, "Therefore your servant has found courage to pray this prayer to you. And now, O Lord God, you are God, and your words are true, and you have promised this good thing to your servant." (2 Samuel 7:27–28)
David had an encounter with the Living Word and, in that moment, the future changed forever for Him! He heard the words from the lips of the Lord and knew that God doesn't lie! God fulfills what He promises!
Fast-forward 3,000 years. We have a Bible (many Bibles to be honest). We can hear the voice of God every day just by picking it up, opening it and reading it out loud. And, as we read, the indwelling Holy Spirit of God can and will focus our hearts and minds on certain passages. There, in the quiet of the moment, God will speak to us as well.
He has made so many promises to us and wants us to trust His words so our future will be changed forever as a result of our faith in His character! Pause. If you need help in how to read God's word, we'll be glad to send you a free Bible reading schedule and instruction guide.
Hope For Today is a part of the ministry of Eagles In Leadership. If you would like to know more about the hope God gives and His abundant life through Jesus Christ, I would invite you to check out our website: Eagles In Leadership . org; that's Eagles In Leadership .org.