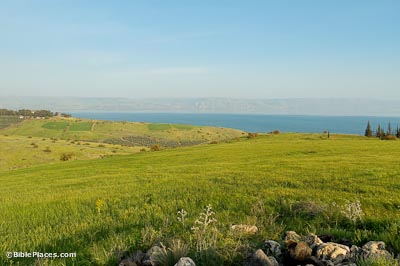 Photo Credit: http://www.bibleplaces.com/mtbeatitudes.htm
Can you imagine listening to the Beatitudes of Jesus in the very place where Jesus first uttered them! You can if you join Melodee and I for these 10 Life-Changing Days in Israel! We will hold a Bible study here from the Sermon on the Mount and you will enjoy hearing those words in their original context.
The "Sermon on the Mount" is recorded in Matthew 5-7 and Luke 6.  The alleged discrepancy between Matthew's version being on a hill and Luke's being on a level place is easily reconciled with observation of many level places on the Galilean hillsides.  Scripture gives no indication of the exact location of this event, but the Byzantines built a church to commemorate it at the bottom of the hill.  Some of Napoleon's men placed it on the nearby Arbel mountain.
The suggestion of this hill for the location of the Sermon on the Mount is a good one.  Once known as Mt. Eremos, this hill is located between Capernaum and Tabgha and is just above the "Cove of the Sower."  This spacious hillside provides much room for crowds to gather, as evidenced by preparation for 100,000 Catholics to observe mass nearby with the Pope's visit in March 2000 (it rained and fewer came, but the space was available).
Melodee and I want to invite you to join us on this amazing, once-in-a-lifetime trip. Don't miss this opportunity! God wants to transform your life like He has done to us!
This is a 10-day trip leaving February 18th, 2013. We have made it easy for you to join us with a choice of departures cities across the country: You can choose to leave from Los Angeles, Chicago or New York.
Details and a brochure with all the details are located at this link. We encourage you to get your deposit in while space is still available!
Melodee and I are here to answer all of your questions! You can email us at: pastormatt [@] eaglesinleadership.org
We look forward to praying with you in Israel in February!