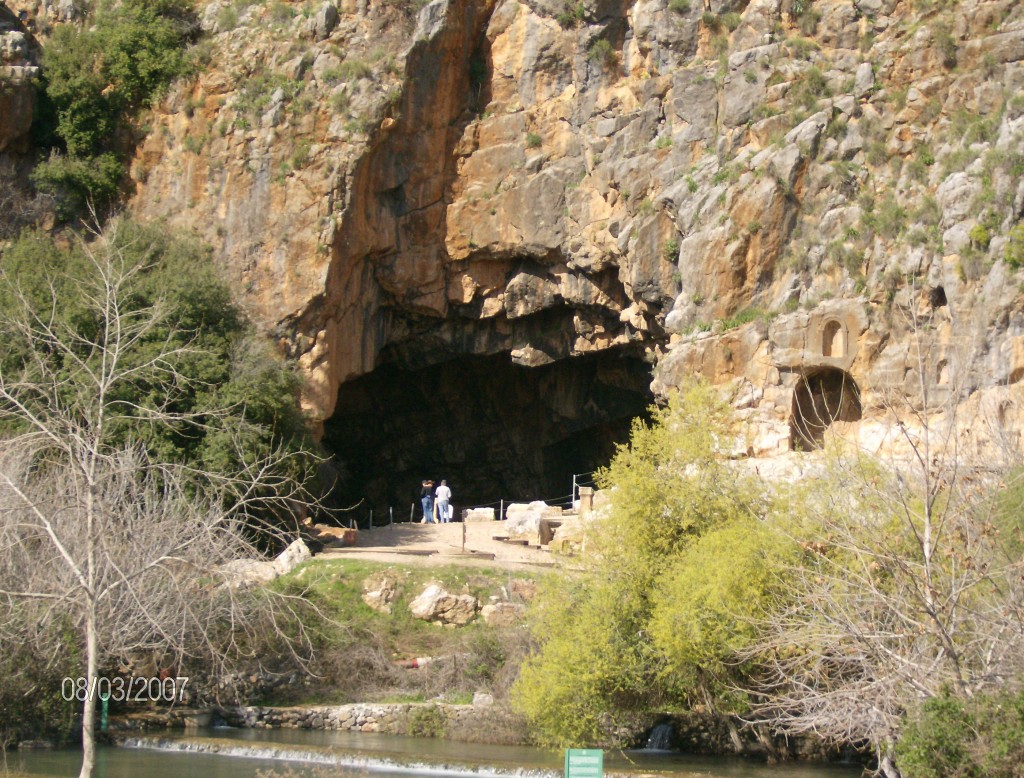 Can you imagine standing in the very place where Jesus predicted that the Church would never succumb to "the Gates of Hell" – a place where the worship of false gods had prevailed for centuries! You can if you join Melodee and I for these 10 Life-Changing Days in Israel!
The early name of this place was "Panias" directly identifying this location with worship of one pagan Greek god, "Pan". It's later and current name (Banias and Banyas) are merely corruptions of this original, with the "B" later being substituted for the "P", due to usage in the Arabic language.
Close to the foot of Mount Hermon (about 1150 feet, or 350 meters, above sea level), it is an area of lush grasslands and trees, with plenty of water as one of the sources of the Jordan River. Here, a massive spring flows out of the rock – its abundant supply of water made the area attractive for farming and religious purposes.
The grotto of Pan was a focal point in the worship of this half-man half-goat, flute playing deity. For at least two centuries before Christ, sacrifices were cast into the cave as offerings to Pan. At that time the main spring emerged from this large cave. Earthquakes have since caused the water flow to emerge elsewhere. Near the grotto of Pan a number of niches were carved in the rock cliff. These niches were used to hold idols depicting numerous deities, including Echo, a mountain nymph who was said to be a consort of Pan.
The grotto of Pan and the rock face of the mountain would have made imposing visuals as Jesus declared Himself the Rock on which the church would be built and that the gates of Hell  (Matthew 16) would never prevail against it. (Gates of Hell: think of a Grotto into which a sacrifice would be thrown, which would then be pulled down by the current, into the earth, not to rise again). Clearly these visuals would have driven home Jesus' claim of authority and power.
Melodee and I want to invite you to join us on this amazing, once-in-a-lifetime trip. Don't miss this opportunity! God wants to transform your life like He has done to us!
This is a 10-day trip leaving February 18th, 2013. We have made it easy for you to join us with a choice of departures cities across the country: You can choose to leave from Los Angeles, Chicago or New York.
Details and a brochure with all the details are located at this link. We encourage you to get your deposit in while space is still available!
Melodee and I are here to answer all of your questions! You can email us at: pastormatt [@] eaglesinleadership.org
We look forward to praying with you in Israel in February!