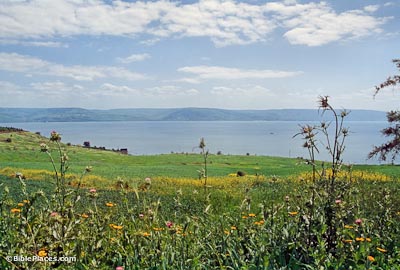 Photo Credit: http://www.bibleplaces.com/seagalilee.htm
Imagine a cool breeze blowing across your face as you sail on the very waters Jesus walked on 2,000 years ago! (Matthew 14) It was here Jesus did the miracle of the huge catch of fish. (Luke 5) And it was on this very shore that Jesus called Peter back to himself after his resurrection. (John 21)
The Sea of Galilee is fed by the Jordan River, rainfall and springs on the northern side.  More properly designated a lake, the Kinneret (the OT and modern name) is 13 miles long and 7 miles wide.  At its deepest point the lake is only 150 feet deep.  The rabbis said of it, "Although God has created seven seas, yet He has chosen this one as His special delight."
Join Melodee and I as we travel to Israel in February of 2013! We start out our third day with a boat ride on the Sea of Galilee. We visit Ginnosar to view the fishermen's boat, found on the shores of the Sea Galilee, which dates to Jesus' time.
Melodee and I want to invite you to join us on this amazing, once-in-a-lifetime trip. Don't miss this opportunity! God wants to transform your life like He has done to us!
This is a 10-day trip leaving February 18th, 2013. We have made it easy for you to join us with a choice of departures cities across the country: You can choose to leave from Los Angeles, Chicago or New York.
Details and a brochure with all the details are located at this link. We encourage you to get your deposit in while space is still available!
Melodee and I are here to answer all of your questions! You can email us at: pastormatt [@] eaglesinleadership.org
We look forward to praying with you in Israel in February!