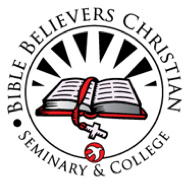 Eagles In Leadership and Bible Believers Christian College and Seminary Are Announcing A Summer Term 2012 Course
Urban Leadership
Becoming a Biblical Leader For Your Urban Community
Tuesdays, 6.30 – 9.30 pm
June 12 – August 14, 2012
 Course Description: Urban Leadership will introduce you to the subjects of Urban Leadership and Servant Leadership; allow you to examine the biblical texts forming the basis for the creation, purpose, functions and goals of the spiritual leader who ministers in an urban context; cause you to analyze and differentiate what is biblical and what is cultural in our understanding of leadership; propel you to identify the basic ingredients of what makes a lasting spiritual leader; and encourage you to examine what the Scriptures say regarding the qualifications and functions of a godly leader.
Registration Is Now Open
For This Class to be Offered at:
Bible Believers Christian College and Seminary
4081 W. El Segundo Blvd.
Hawthorne, CA 90250
Contact: Dr. Steven Davis, Dean or Dr. Matthew Smith, Professor
Phone: 323.779-2222
Biblical Training for Today's Urban Christian Leader
These courses are designed for the serious Bible student:
Pastors, Ministers, Evangelists, Teachers, Deacons, Deaconnesses, Chaplains, Missionaries, etc.
Professor: Dr. Matthew Lee Smith, Ph D, Professor
Bible Believers Christian College and Seminary
Schedule: June 12 – August 14 (10 weeks), Tuesdays, 6.30 – 9.30 pm
RSVP – ASAP! Space is limited!
Tuition: Full Credit Course (3 accredited, transferrable units)
At an affordable cost: $150. Includes registration fee and course.
A $20 materials fee will also be expected on the first night of class.
Take the course God's Church in Man's City also and
get both courses for $275 instead of $300 – a $25 discount!
For more information: Bible Believers Christian College and Seminary