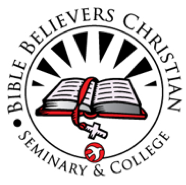 Eagles In Leadership and Bible Believers Christian College and Seminary Are Announcing A Summer Term 2012 Course
God's Church in Man's City
Understanding and Deploying a Biblical Church in an Urban Community
Mondays, 6.30 – 9.30 pm
June 11 – August 13, 2012
Course Description: Practical Ecclesiology introduces you to the subjects of the Universal Church and the local church; examines the biblical texts forming the basis for the creation, purpose, functions and goals of the Church and local churches; analyzes and differentiates what is biblical and what is cultural in our understanding of the local church; identifies the basic ingredients of what makes a local church; examines what the Scriptures say regarding the qualifications, functions and structures of church leadership and applies these truths to the urban context of Los Angeles County.
Registration Is Now Open
For This Class to be Offered at:
Bible Believers Christian College and Seminary
4081 W. El Segundo Blvd.
Hawthorne, CA 90250
Contact: Dr. Steven Davis, Dean or Dr. Matthew Smith, Professor
Phone: 323.779-2222


Biblical Training for Today's Urban Christian Leader
These courses are designed for the serious Bible student:
Pastors, Ministers, Evangelists, Teachers, Deacons, Deaconnesses, Chaplains, Missionaries, etc.
Professor: Dr. Matthew Lee Smith, Ph D, Professor
Bible Believers Christian College and Seminary
Schedule: June 11 – August 13 (10 weeks), Mondays, 6.30 – 9.30 pm
RSVP – ASAP! Space is limited!
Tuition: Full Credit Course (3 accredited, transferrable units)
At an affordable cost: $150. Includes registration fee and course.
A $20 materials fee will also be expected on the first night of class.
Take the course Urban Leadership also and
get both courses for $275 instead of $300 – a $25 discount!
For more information on: Bible Believers Christian College and Seminary