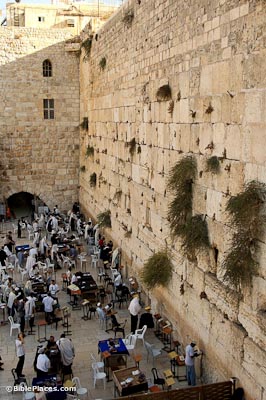 Join Melodee and I as we travel to Israel in February of 2013!
Among the many places we will see and the many things we will do, we will have an opportunity to pray at the Western Wall of the Temple site, known more popularly as "the Wailing Wall."
On our last trip when I finished praying, an older gentleman, an Orthodox Jew, asked me if I was Jewish. When I responded, "No, I am a Gentile who believes King Solomon's words in 2 Chronicles 6:32–33 (HCSB):
"Even for the foreigner who is not of Your people Israel but has come from a distant land because of Your great name and Your mighty hand and outstretched arm: when he comes and prays toward this temple, may You hear in heaven in Your dwelling place, and do all the foreigner asks You. Then all the peoples of the earth will know Your name, to fear You as Your people Israel do and know that this temple I have built is called by Your name."
The man began to weep! He thanked me for coming and asked God to grant my prayers as well!
Melodee and I want to invite you to join us on this amazing, once-in-a-lifetime trip. Don't miss this opportunity! God wants to transform your life like He has done to us!
This is a 10-day trip leaving February 18th, 2013. We have made it easy for you to join us with a choice of departures cities across the country: You can choose to leave from Los Angeles, Chicago or New York.
Details and a brochure with all the details are located at this link. We encourage you to get your deposit in while space is still available!
Melodee and I are here to answer all of your questions! You can email us at: pastormatt [@] eaglesinleadership.org
We look forward to praying with you in Israel in February!