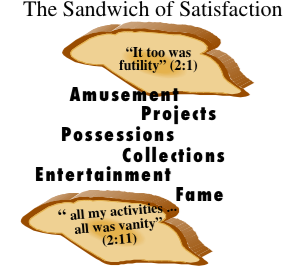 Artwork Credit: foundationsforfreedom.net
Editor's Note: We continue our series of blogs for those who are reading the Bible with us cover-to-cover this year. Interspersed with our thoughts on our daily reading, we want to provide some tips about reading the Bible in general.
Ecclesiastes: Understanding the Futility of a Life Lived for Self
Selfishness is an all-consuming, all crushing pursuit. When one comes to the end of a journey lived for self they find themselves alone. Perhaps they are surrounded by all the things they hoped for, perhaps not. Yet, one can be sure that the end of such a life is lonely, empty and ultimately of no eternal profit.
Most people agree that the writer of this book is Solomon, King of Israel. It is quite possible that the book was written towards the end of his life, at a time when he realizes his failures during the last two decades of his reign.
Whatever the circumstances of this book's creation, there is little confusion about the purpose. Solomon writes this book to share the lessons he has learned as the richest king on the planet. Nothing has been withheld from him and he withheld nothing from himself.
As an explorer of life's purposes and meaning, Solomon comes to a singular conclusion, which he repeats several times within the pages of this scientific journal chronicling the experimentation phase of his life:
Enjoy the life God has given you with great passion!
"There is nothing better for a person than that he should eat and drink and find enjoyment in his toil. This also, I saw, is from the hand of God, for apart from him who can eat or who can have enjoyment? For to the one who pleases him God has given wisdom and knowledge and joy, but to the sinner he has given the business of gathering and collecting, only to give to one who pleases God. This also is vanity and a striving after wind." (Ecclesiastes 2:24–26, ESV)
Enjoy the work God has given you with great joy!
"So I saw that there is nothing better than that a man should rejoice in his work, for that is his lot. Who can bring him to see what will be after him?" (Ecclesiastes 3:22, ESV)
Enjoy the gift of life and work God has given you with total acceptance!
"Behold, what I have seen to be good and fitting is to eat and drink and find enjoyment in all the toil with which one toils under the sun the few days of his life that God has given him, for this is his lot. Everyone also to whom God has given wealth and possessions and power to enjoy them, and to accept his lot and rejoice in his toil—this is the gift of God. For he will not much remember the days of his life because God keeps him occupied with joy in his heart."  (Ecclesiastes 5:18–20, ESV)
Enjoy the food and life God has given you with continual intensity!
"And I commend joy, for man has no good thing under the sun but to eat and drink and be joyful, for this will go with him in his toil through the days of his life that God has given him under the sun."  (Ecclesiastes 8:15, ESV)
Enjoy the life God has given you with the wife whom you love with dedicated might!
"Enjoy life with the wife whom you love, all the days of your vain life that he has given you under the sun, because that is your portion in life and in your toil at which you toil under the sun. Whatever your hand finds to do, do it with your might, for there is no work or thought or knowledge or wisdom in Sheol, to which you are going."  (Ecclesiastes 9:9–10, ESV)
Fear God and keep his commands all the days of your joy-filled life!
"The end of the matter; all has been heard. Fear God and keep his commandments, for this is the whole duty of man. For God will bring every deed into judgment, with every secret thing, whether good or evil." (Ecclesiastes 12:13–14, ESV)
While Solomon states that a life lived on earth for self is "vanity" he reminds us of one consistent truth: God wants you to enjoy the life he gives you, the work he sets before you and the people with whom he surrounds you!
It is our hope that this background information helps a bit as you read on in the Bible.
© 2011 Dr. Matthew Lee Smith, All rights reserved.
For daily insights into the passage we are reading together each day, you can follow Dr. Smith on Twitter and on Facebook.
You can obtain more help from the FREE Bible reading schedule on our resource page. In His Image is a daily devotional that also follows our reading schedule and expresses the Biblical truth: "God Created You to Love You." You can find this resource on the side bar of our website.
======
Host a Reaching Your Community In Your Generation Seminar!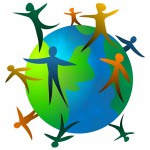 The world around us changes approximately every 18 months! Such change brings great challenges to our mission. Eagles In Leadership has designed a weekend to help you energize your congregation or organization to fulfill the Great Commission in your community. You can bring this weekend to your church or organization!
The weekend revolves around four key messages:
Help! My Community Is Changing!
What's Your Dream for Your Church? (And How Do You Reach It?)
Healthy Churches Grow!
Reaching Your Community In Your Generation! (It's All About the Mission!)