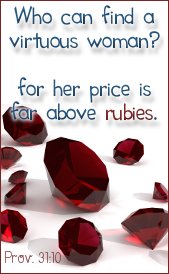 Artwork Credit: lacy.obeyingthetruth.com
Editor's Note: We continue our series of blogs for those who are reading the Bible with us cover-to-cover this year. Interspersed with our thoughts on our daily reading, we want to provide some tips about reading the Bible in general.
Proverbs – Becoming a Virtuous Wife (Proverbs 31:10-31)
As we wrap up the book of Proverbs we come to one of the mist exciting passages in the Old Testament. While many speak of the denigration of women in Bible times, this passage shows us that when that happened, it was NOT God's will or desire.
As we look carefully into the virtues of this ancient woman, we see many of the desires of their contemporary counterparts – and a lesson for husbands as well. The Biblical term for this position is "home manager," but do not look at that disparagingly. It is obvious to any, except perhaps the casual or bigoted observer, that this position was one of great power and authority!
In Biblical days it was "all hands on deck" to bring about the prosperity and dominion of the family. Rightly understood, the husband would work with his partner to extend their profits and prospects. This meant giving the virtuous woman the "keys to their kingdom," allowing her to do what today would seem unheard of in the normal marriage! Consider the "careers" of this model woman, from the Old Testament book of Proverbs – the book of wisdom – and learn, if you will from them for your own prosperity and dominion in your community! She was …
A trusted partner in the family business! (31:11)
A commodity broker! (31:13)
A manual laborer!  (31:13)
An importer of goods!  (31:14)
A 5-star chef!  (31:15)
An employer and staff manager!  (31:15)
A realtor!  (31:16)
An investor!  (31:16)
A fitness enthusiast!  (31:17)
A retailer!  (31:18)
A clothier!  (31:19, 24)
A philanthropist!  (31:20)
A woman of wealth!  (31:21-22)
A political aid!  (31:23)
A valued counselor! (31:25-26)
A hard-working C. O. O.!  (31:27)
A blessed mother!  (31:28)
A praised wife! (31:29)
A godly woman!  (31:30)
A community leader!  (31:31)
After you recover from the impact of these realities, one this is for sure: Those who place women as second-class citizens through their faith, are truly misguided and mistaken as to their potential and possibility as joint-heirs of all God longs to provide for them!
It is our hope that this background information helps a bit as you read on in the Bible.
© 2011 Dr. Matthew Lee Smith, All rights reserved.
For daily insights into the passage we are reading together each day, you can follow Dr. Smith on Twitter and on Facebook.
You can obtain more help from the FREE Bible reading schedule on our resource page. In His Image is a daily devotional that also follows our reading schedule and expresses the Biblical truth: "God Created You to Love You." You can find this resource on the side bar of our website.
======
Host a Reaching Your Community In Your Generation Seminar!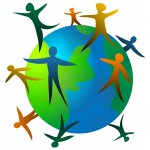 The world around us changes approximately every 18 months! Such change brings great challenges to our mission. Eagles In Leadership has designed a weekend to help you energize your congregation or organization to fulfill the Great Commission in your community. You can bring this weekend to your church or organization!
The weekend revolves around four key messages:
Help! My Community Is Changing!
What's Your Dream for Your Church? (And How Do You Reach It?)
Healthy Churches Grow!
Reaching Your Community In Your Generation! (It's All About the Mission!)