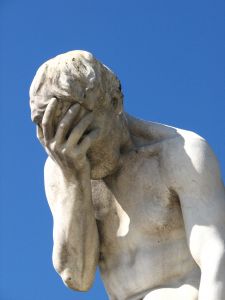 Photo Credit: medicaltipsinfo.blogspot.com
You probably know the feeling – life was supposed to turn out differently, but it didn't. You thought God would rescue you, but he hasn't. You know the dire hopelessness as God has stopped speaking and no one seems to be able to tell you how long the situation will continue. Friends and family without Christ scoff at the idea that there is a God who cares when they talk with you about your situation and they revile God's name constantly in your presence.
Asaph understood what you feel. After the Temple of Solomon has been destroyed he penned this prayer in Psalm 74 to appeal to God. He was desperate as well. His prayer is a great example to all of us when all seems lost.
When all seems lost, in prayer appeal to …
God's reputation (the enemy scoffs at God's name) v. 18
God's people (the psalmist calls them "your dove" and "your poor") v. 19
God's covenant ("have regard for your covenant") v. 20
God's poor (called "downtrodden" and "poor and needy") v. 21
God's cause ("Arise, O God, defend your cause") v. 22
God's enemies ("Don't forget the clamor of your foes, the uproar of those who rise against you") v. 23
Perhaps you need a little help to "flesh out" how you would pray this prayer. Let me give you a real-life example to consider:
Dear Lord, you know we have been unemployed for a long time and finances are gone. All seems lost, and even our friends say, "Our prayers don't seem to be working." Your reputation is at stake. Remember us, your children by faith. Have regard for the covenant with Jesus. You have said You would "never leave us or forsake us" (Hebrews 13:5). We are nearly at the end of ourselves, without resources and in need. Arise, Lord, defend your cause in our lives. Don't allow your enemies to laugh at You and claim your inability or non-existence. Rescue us quickly Lord, In Jesus' name, Amen.
If all seems lost, cry out to Jesus for his help and don't stop trusting. In reality, he is moving the pieces of life around and soon he will rescue you! And if he doesn't, your reward in eternity will be great!
That's my take, and I would love to hear yours. Please feel free to comment below.