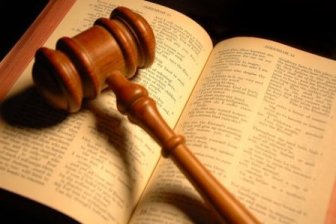 Photo Credit: elca.org
Editor's Note: We continue our series of blogs for those who are reading the Bible with us cover-to-cover this year. Interspersed with our thoughts on our daily reading, we want to provide some tips about reading the Bible in general.
Job: God Is Always Just (Job 32-37)
Job has been through the meat-grinder of tragedy, losing his family, his prosperity and his health in one day. Then, his "so-called" good friends attack and condemn him, accusing Job of sin and selfishness.
When ten rounds of accusation and defense play out Elihu, a young friend, steps up seeking to justify Job (Job 33:32) and explore the character and purposes of God. As he speaks, with Job's apparent interest and permission (Job 33:32 – 34:1), pay close attention to …
Elihu's condemnation of Eliphaz, Bildad and Zophar's caricature that "suffering is for sinners." (Job 32)
Elihu's contradiction by Job's complaints of the "injustice of God's actions." (Job 33)
Elihu's confirmation by God's character of the "justice of His motives." (Job 34)
Elihu's conviction of God's condemnation of the "pride of evil hearts." (Job 35)
Elihu's communication of God's charity through the "goodness of God's methods." (Job 36:1-23)
Elihu's confidence in God's compassion because of the "majesty of God's being." (Job 36:24 – 37:24)
As you read through this section of Job, keep one thought in mind: No matter the mess you are in, you may not know the why, but you will always know the character of God; he cares for you.
It is our hope that this background information helps a bit as you read on in the Bible.
For daily insights into the passage we are reading together each day, you can follow Dr. Smith on Twitter and on Facebook.
You can obtain more help from the FREE Bible reading schedule on our resource page. In His Image is a daily devotional that also follows our reading schedule and expresses the Biblical truth: "God Created You to Love You." You can find this resource on the side bar of our website.
Join Dr. Smith in Bell Gardens, CA This Month!