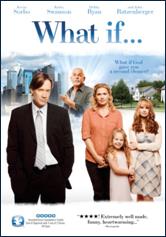 We just previewed the film What If and found it to be an excellent choice for your family viewing! We were impressed with the honesty and clarity of the story line: a life without Christ is empty, despite what you may attain.

WHAT IF tells the story of Ben Walker (Kevin Sorbo), fifteen years after leaving his college sweetheart Wendy (Kristy Swanson) and his calling to be a preacher in order to pursue a business opportunity. Now with a high-paying executive gig, a trophy fiancé and a new Mercedes, he hasn't even considered a family nor felt the need to set foot in a church in fifteen years.

While on a thrill ride outside the city, his new car mysteriously breaks down, and he's visited by a tow truck driver named Mike (John Ratzenberger) who claims to be an angel sent to show Ben what his life would look like had he followed his true calling. Suddenly Ben wakes up in the middle of domestic chaos as his wife Wendy and daughters (including Debby Ryan) are getting ready for church, where Ben is the new pastor.

Before he can get back to his old life, Ben must first embrace this reality and discover the value of faith and family, and perhaps restore his love for those who were heartbroken fifteen years ago: Wendy and God. In the tradition of Its a Wonderful Life and The Family Man, What If is a story of finding your true purpose in life.
WHAT IF just received the Faith and Values MovieGuide Award for Most Inspiring Performance in a Lead Role (Sorbo/who was also host of the Awards Gala) and was one of the Top Ten Best Family Movies of 2010.
Pure Flix Entertainment announces the release of the film WHAT IF to DVD. WHAT IF stars KEVIN SORBO (Hercules, the Legendary Journeys, Andromeda), DEBBY RYAN (Bailey Pickett on the #1 Disney Channel hit show, The Suite Life on Deck), JOHN RATZENBERGER (Toy Story, Cheers) and KRISTY SWANSON (Buffy the Vampire Slayer ). WHAT IF is directed/produced by Dallas Jenkins (son of famed Jerry Jenkins, co-author of the Left Behind series) and is the sixth film to be released from the father/son duo.
Suitable for all ages, WHAT IF has been featured this week in the The Christian Post, Guideposts 'Reel Inspiration', and previously for the theatrical release in the New York Times.
You can learn more about the film at: www.thewhatifmovie.com.
You can purchase a copy of the film here.