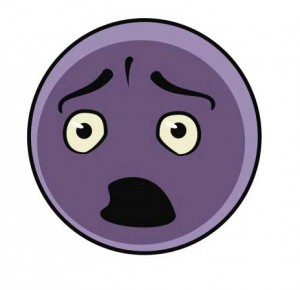 Editor's Note: We continue our series of blogs for those who are reading the Bible with us cover-to-cover this year. Interspersed with our thoughts on our daily reading, we want to provide some tips about reading the Bible in general. Today we want to explore …
When Fear Grips Your Viability!
Deuteronomy 7:17-26 (ESV)
17 "If you say in your heart, 'These nations are greater than I. How can I dispossess them?' 18 you shall not be afraid of them but you shall remember what the Lord your God did to Pharaoh and to all Egypt, 19 the great trials that your eyes saw, the signs, the wonders, the mighty hand, and the outstretched arm, by which the Lord your God brought you out. So will the Lord your God do to all the peoples of whom you are afraid. 20 Moreover, the Lord your God will send hornets among them, until those who are left and hide themselves from you are destroyed. 21 You shall not be in dread of them, for the Lord your God is in your midst, a great and awesome God. 22 The Lord your God will clear away these nations before you little by little. You may not make an end of them at once, lest the wild beasts grow too numerous for you. 23 But the Lord your God will give them over to you and throw them into great confusion, until they are destroyed. 24 And he will give their kings into your hand, and you shall make their name perish from under heaven. No one shall be able to stand against you until you have destroyed them. 25 The carved images of their gods you shall burn with fire. You shall not covet the silver or the gold that is on them or take it for yourselves, lest you be ensnared by it, for it is an abomination to the Lord your God. 26 And you shall not bring an abominable thing into your house and become devoted to destruction like it. You shall utterly detest and abhor it, for it is devoted to destruction.
Fear. It grips all of us at one time or another. And nothing is as debilitating as when fear paralyzes your mission. What do you do when you are afraid and it is affecting your mission and ministry? Moses shows us that there are things we must do and things God will do for us in such situations. First, let's look at our responsibilities when fear grips our mission's viability …
My Responsibilities
Don't let fear control you! (7.18a)
Remember what God has done! (7.18b)
Victory will put an end to their fame! (7.24b)
Destroy their worthless idols completely! (7.25a)
Don't desire any of their profits from sin and shame! (7.25b)
Don't bring their possessions into your home! (7.26a)
Detest all that their lifestyle enjoyed! (7.26b)
While this is happening, God is working. Now get this: God works AS we advance. It's about faith in action – God works when he sees us trust him! Note what God will do:
God's Actions for Us
God will fight for you! (7.19)
God will antagonize your enemies! (7.20)
God will be in your midst! (7.21)
God will advance your cause! (7.22)
God will confuse them and make you victorious! (7.23)
God will defeat their leaders for you! (7.24)
When fear grips you next time, review this passage and take the steps listed above. God will work as you launch out by faith.
It is our hope that this background information helps a bit as you read on in the Bible. We will continue this series with our next installment on Friday when we talk about "Spiritual Drift and Affluence."
For daily insights into the passage we are reading together each day, you can follow Dr. Smith on Twitter and on Facebook.
You can obtain more help from the FREE Bible reading schedule on our resource page. In His Image is a daily devotional that also follows our reading schedule and expresses the Biblical truth: "God Created You to Love You." You can find this resource on the side bar of our website.
For Our Los Angeles County Friends!
Dr. Matthew Smith will be speaking this coming Sunday, March 13th in Long Beach and would like to invite you to attend. He will be speaking on the subject, "Falling in Love with Jesus!" There is no fee for this event and all are welcome. Here are the details:
March 13 – 10:45 am Worship Speaker @ University Baptist Church, 3434 Chatwin Avenue, Long Beach, CA 90808 – (562) 425-0912
Hope to see you there!