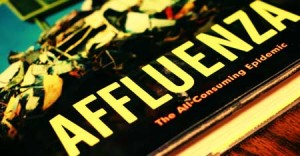 Editor's Note: We continue our series of blogs for those who are reading the Bible with us cover-to-cover this year. Interspersed with our thoughts on our daily reading, we want to provide some tips about reading the Bible in general. Today we want to explore …
Spiritual Drift and Affluence!
Deuteronomy 8:11–14 (ESV)
11 "Take care lest you forget the Lord your God by not keeping his commandments and his rules and his statutes, which I command you today, 12 lest, when you have eaten and are full and have built good houses and live in them, 13 and when your herds and flocks multiply and your silver and gold is multiplied and all that you have is multiplied, 14 then your heart be lifted up, and you forget the Lord your God, who brought you out of the land of Egypt, out of the house of slavery …
Spiritual Drift. In a recent conversation with Drew Dyck, author of Generation Ex-Christian: Why Young Adults Are Leaving the Faith … And How to Bring them Back, he made an interesting comment. Drew said, "In recent research nearly 70% of young adults confessed that the reason they left the faith was that they simply drifted away." (See my review of Drew's book here. Listen to my podcast with Drew on Wednesday this week!)
How does our heart drift away from God? One of the greatest dangers to spiritual vibrancy is affluence. Some have called it affluenza. Let's discover the 5 dangers of affluenza that Moses warned the nation of Israel about and think how they affect us today.
An abundance of food – imagine having no food in the home and not being sure where your next meal is coming from. That's what its like for over 1/3 of the world's population. With a visit to the favorite restaurant of your choice always an option and the fridge, cupboard and freezer filled, we can get complacent about asking for to "give us this day our daily bread."
A comfortable home – having been homeless for a year let Melodee and I know what we had lost. We prayed daily for God's care – which he provided – and we thanked him many times a day for the blessing of a roof over our heads. However, when we own our home and can make the payments, we often take this need for granted and forget to thank God for it.
A growing career or business – over the years, if we apply ourselves, we can begin to see how OUR efforts have allowed us to rise. We seldom think about God's hand of favor and soon we start believing the lie that we are "self-made" people. This leads to more drift as we need less and believe we are able to bless our own lives.
A good salary and savings – a pension, a full 401k, a laptop, a web-enabled cell phone, trips away on the weekends, and most all of the comforts a person could imagine (with a wish list for the next big thing, think iPad 2), our false image of our own self-made security is about complete. Who needs God when they can provide for all their needs?
A growing lifestyle of prosperity – Moses uses an interesting phrase here to wrap up this thought; "and all that you have is multiplied." In other words, God provides abundance – and we in America know it all too well. Yet, this very provision can be a curse if we fail to nurture our heart close to God every day.
It is our hope that you will avail yourself of some time alone with God every day. We have created tools for just that purpose. Avoid the drift … walk purposefully toward God and with God every day!
You can obtain more help from the FREE Bible reading schedule on our resource page. In His Image is a daily devotional that also follows our reading schedule and expresses the Biblical truth: "God Created You to Love You." You can find this resource on the side bar of our website.
It is our hope that this background information helps a bit as you read on in the Bible. We will continue this series with our next installment on Sunday when we talk about "The Book of Joshua: Israel Crosses Into the Promised Land."
For daily insights into the passage we are reading together each day, you can follow Dr. Smith on Twitter and on Facebook.
For Our Los Angeles County Friends!
Dr. Matthew Smith will be speaking this coming Sunday, March 13th in Long Beach and would like to invite you to attend. He will be speaking on the subject, "Falling in Love with Jesus!" There is no fee for this event and all are welcome. Here are the details:
March 13 – 10:45 am Worship Speaker @ University Baptist Church, 3434 Chatwin Avenue, Long Beach, CA 90808 – (562) 425-0912
Hope to see you there!