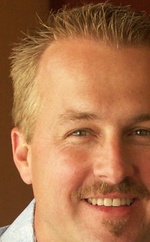 Today's interview is with Dave Ferguson who dreams of "helping all people find their way back to God." He tells us, "I write to inspire, instruct and collaborate with others who share this dream. To see that dream realized I'm using my influence and creativity to catalyze a movement of reproducing churches. Toward that end I serve as the Lead Pastor for a remarkable group of Christ Followers called Community Christian Church and I provide visionary leadership for NewThing, a global network of reproducing churches."
Dave  Ferguson  is  the Lead Pastor  of  Community  Christian Church (www.communitychristian.org),  an  innovative  multi‐site  missional community that  is  passionate  about  "helping  people  find  their  way  back  to  God."
CCC has  grown  from  Dave,  his  wife  and  four  friends  to  over  5000  every  weekend meeting  at  eleven locations.    CCC  empowers  over  600  volunteer  leaders  to oversee  difference‐making  ministry  throughout Chicago  and  was  recently recognized  as  one  of  the  most  influential  churches  in  America.
Dave  provides visionary  leadership  fo he  NewThing Network  (www.newthing.org)  whose  catalyst  for  a  movement  of  reproducing  churches.  NewThing  is  a  network of reproducing churches  internationally  and  a  resource  to  churches  looking  to  reproduce  multiple sites or new churches.
Dave is the author of the newly released, The Big Idea–Focus the Message, Maximize the Impact along with Jon Ferguson and Eric Bramlett. Next to Jesus, Dave loves his wife Sue the most and then his three terrific kids Amy ‐ 19, Joshua ‐ 16  and  Caleb  ‐  11. Dave  and  his  family  live  in  Naperville,  IL.  Dave  enjoys  hanging  out  with  his  family,  reading,  running  and  playing  any  sport  with  a  ball.  If  you  want  to  keep  up  with  Dave's adventures check out his blog at www.daveferguson.org.
Blog: http://www.daveferguson.typepad.com/
Twitter: http://twitter.com/daveferguson
Facebook: http://www.facebook.com/dave.ferguson
Order The Big Idea: Focus the MessageMultiply the Impact (Leadership Network Innovation Series)
on Amazon.
Pre-order The Exponential Church: How You and Your Friends Can Spread a Missional Movement (Exponential Series)
on Amazon.