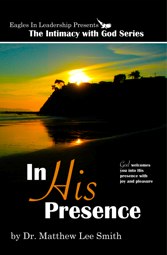 Despair and troubles seem to be overwhelming the people of God right now. The only way for the men and women of God to weather the storms of life is to cling to the God in charge of it all. A deep, storm-busting faith begins with our daily time in God's word. Dr. Smith has words of hope, love and wisdom gleaned from this study of God's word and he's collected them into two faith building books – In His Image and In His Presence.
And now Dr. Smith is asking for  your help promoting the books and he's offering you a chance to win a free autographed copy of your very own.
Find some way to promote the book: you can write about it on your blog, post a video on YouTube, Tweet about it on Twitter, tell your Facebook friends, run something in your church bulletin, buy some copies for your local church library,  leave a review on Amazon … whatever you can think of. The idea is (of course) to drive sales of the book.
If at all possible, link to the book itself using the following URLs:
In His Presence: https://www.createspace.com/3382271
In His Image: https://www.createspace.com/3391449
Once you've posted something, write about it in the comments section at the bottom of this page.
You have until 10/30/09 to come up and execute your promotional idea.