A New Book by Sam S. Rainer III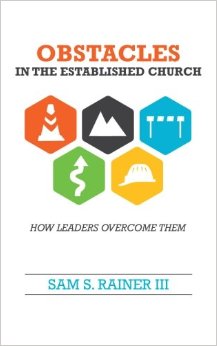 Obstacles In the Established Church is that book most pastors wish they would have read years ago. Sam seeks to help those who lead the established local American Church get "unstuck" so that it can fulfill its mission.
In an honest, straightforward manner, Rainer uses his experience, failures and transparency to show what causes churches to decline and offers how to steps to get back on track with the Great Commission.
As I read the book, I reminisced time and again with personal experiences over my 35 year pastoral ministry helping such churches regain health and hope. In 135 pages, Sam provides honesty and help to the pastor who is struggling in a sick church or wants to take the church he serves into greater health.
Obstacles deals with four key issues that confront every leader in the established local American Church: Change, Criticism, Comfort and Expectations. In plain language and positive steps, slathered with layers of hope, this is the book every pastor should digest and then display in their daily leadership.
We, at Eagles In Leadership, highly recommend Obstacles In the Established Church and want you to know you can order it here.