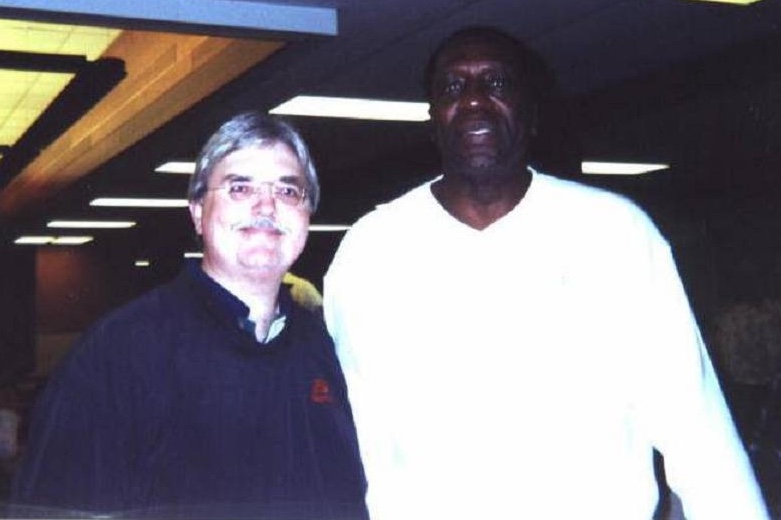 Mike Powers and Meadowlark Lemon, November 12, 2000
(Photo Credit: Pastor Roger Olson)
It is with great respect and admiration we broadcast this interview with the legendary basketball player, Meadowlark Lemon. His love for people, basketball and the Lord are all highlighted in this November 2000 interview with our own, Mike Powers.
The Harlem Globetrotters reported,
During 24 seasons as the "Clown Prince" of the Harlem Globetrotters, Meadowlark Lemon – who passed away in Scottsdale, Ariz., on Dec. 27, 2015, at the age of 83 – played in more than 7,500 consecutive games for the red, white, and blue. He played before popes, kings, queens and presidents in nearly 100 countries around the world.
The New York Times called Lemon,
A gifted athlete with an entertainer's hunger for the spotlight, Lemon, who dreamed of playing for the Globetrotters as a boy in North Carolina, joined the team in 1954, not long after leaving the Army. Within a few years, he had assumed the central role of showman, taking over from the Trotters' long-reigning clown prince Reece Tatum, whom everyone called Goose.
Lemon was a slick ballhandler and a virtuoso passer, and he specialized in the long-distance hook, a trick shot he made with remarkable regularity. But it was his charisma and comic bravado that made him perhaps the most famous Globetrotter. For 22 years, until he left the team in 1978, Lemon was the Trotters' ringmaster, directing their basketball circus from the pivot. He imitated Tatum's reams, including spying on the opposition's huddle, and added his own.
He threatened referees or fans with a bucket that like as not was filled with confetti instead of water. He dribbled above his head and walked with exaggerated steps. He mimicked a hitter in the batter's box and, with teammates, pantomimed a baseball game. And both to torment the opposing team — as time went on, it was often a hired squad of foils — and to amuse the appreciative spectators, he smiled and laughed and teased and chattered; like Tatum, he talked most of the time he was on the court.
ESPN says,
Lemon, who was inducted into the Naismith Memorial Basketball Hall of Fame in 2003, joined the Globetrotters in 1954 at age 22 and stayed with the traveling show until 1978, appearing in more than 16,000 games in more than 100 countries.
"Meadowlark was the most sensational, awesome, incredible basketball player I've ever seen," NBA great and former Globetrotter Wilt Chamberlain said shortly before his death in 1999. "People would say it would be Dr. J or even [Michael] Jordan. For me, it would be Meadowlark Lemon."
The Globetrotters said on Twitter that they'd dedicate the team's 90th anniversary tour to Lemon and former teammate and fellow Hall of Famer Marques Haynes, who died in May.
Here at Eagles in Leadership we pray that God's blessing and comfort be with the family and loved ones of one of His great representatives to the world – someone who brought joy and pleasure to so many.