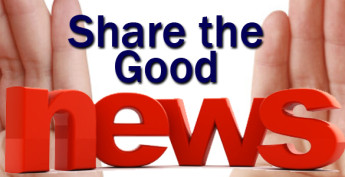 "It's Time for Christmas!" 
I know those are words that speak panic in some of your hearts and lives.  It's about shopping.  It's about things that need to be done and haven't gotten done.  I just want to say as we begin and admit together that sometimes this time of the year is the time we realize we've got a big month in front of us and often times it doesn't work out like we want it to.  Let's just be honest about that at the beginning.
But oftentimes we face this month of the year and think, "How's it going to go?  What kind of month is it going to be?"
Let me tell you the goal of this series the next few weeks. The goal is a better December, a better December than you've ever had before.  You may have had some great Decembers but it could be better.  You may have had some rotten Decembers and you may be thinking it's going to be a rotten one this year.  It does not have to be that way.  It can be a better December because the true news about Christmas is the good news about what God has done.  This is different than any other season.  Why not make it the best season?  This month we're going to talk together about some choices I can make – you can make – that we can make to enjoy this December like never before.
WOULD YOU HELP US SPREAD THE WORD?
Could you take just a moment and contact a friend and share the link to this message and encourage them to listen as well? Thank you!
CHRISTMAS IS RIGHT AROUND THE CORNER! 
With Christmas only a couple of months away we know you would like to get your shopping done early AND give a meaningful gift this year to the ones you love.
Dr. Smith has written two daily devotionals that cover every day of the coming year … allowing you to give the gift that keeps on giving God's Word and His encouragement in the lives of your family and friends.
In His Presence is a detailed look at walking with God through life's ups and downs. Built around the premise that God welcomes you into His presence with joy and pleasure, In His Presence helps you see that the life of abundance can only be enjoyed when we take everything to the Lord and walk every day at His right hand.
In His Image explores God's great love for humanity from every book of the Bible. From the creation of Genesis to the culmination in Revelation, God's love shines through every page. Never is this ever clearer than in the times of Israel's great betrayal of their God. His passionate pursuit of His children can be heard dripping from his voice as He calls them (and us by proxy) back to His shelter and protection.
You can order your copy In His Image or In His Presence from Amazon at the Eagles In Leadership website by clicking the appropriate link on the right hand side panel of the Eagles In Leadership website.