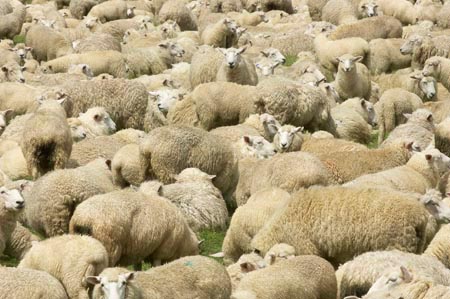 Have you ever lost your keys? Does it drive you as crazy as it used to drive me? You know how it is – you turn the house upside down. In the couch, throwing cushions, looking everywhere – frantic to find those keys! Why? Because they are important!
So what do we do as Spiritual 1st Responders to search out the lost and missing person from within our midst in the congregation or within our neighborhood? We will imitate the 6 actions of God when a sheep from His flock is lost …
I will look for them until I have found them! (Ezekiel 34.11-12)
"For this is what the Lord God says: See, I Myself will search for My flock and look for them. As a shepherd looks for his sheep on the day he is among his scattered flock, so I will look for My flock." (Ezekiel 34:11–12)
If we are going to imitate God's love for one another, we will need to search and look for the lost and wandering! We start inside our church family and search and look for the lost … but we also do this within our neighborhood.
When you don't see an elderly neighbor for a day or two, you stop by and see if everything is all right.
When you don't see a family next door, you ring the doorbell and look in the windows to see if all is OK.
When you care about your neighbors, they will care about you!  (and, eventually, your Jesus)
Once the lost and wandering person is found, what does God do?
"I will rescue them from all the places where they have been scattered on a cloudy and dark day." (Ezekiel 34:12)
Have you ever cried out to God, thinking the situation you are in is so difficult, so precarious; you can see no hope or help apart from the supernatural? So, you cry out to God and whom does He send? An angel? No! He sends a person! A Spiritual 1st Responder!God uses people to accomplish His ways! That's why when we find the lost and wandering neighbor, we imitate God! As a Spiritual 1st Responder …
I will rescue them from wherever they have wandered to.  (Ezekiel 34.12)
When someone is lost, extricating him or her from his or her situation may take some help! After all, you are only one person. Where does the Spiritual 1st Responder get such help? From their small group, of course! Not only is your small group your support group, it is also your search and rescue team. Once we rescue them, we continue to imitate God, who says …
"I will bring them out from the peoples, gather them from the countries, and bring them into their own land." (Ezekiel 34:13)
You will see that God doesn't leave us where we have wandered off. God moves us away from the places that we have been in and brings us back to the family (flock) of God. So, if I am to imitate God's love as a Spiritual 1st Responder …
I will bring them back to the people of God in worship. (Ezekiel 34.13)
God knows that in order for anyone to truly be refreshed in their Spirit and Soul, they will need to come into worship. Why? It is in worship that …
We discover our value as we adore our Creator God in abundant praise
We discover our purpose as we dedicate our lives afresh in surrender
We discover our significance as we direct our lives anew to God's mission
No wonder God would bring us into worship! And these are three of the most important reasons why we would bring the lost and wandering to worship! Once He has returned the lost to worship God says …
"I will shepherd them on the mountains of Israel, in the ravines, and in all the inhabited places of the land." (Ezekiel 34:13)
Notice where God shepherds and cares for His sheep. "On the mountains," "in the ravines" "and in all the inhabited places." These are the places sheep live. This is the "real world" for a sheep. God shepherds sheep where they live. And so should we! That's why, as a Spiritual 1st Responder …
I will disciple them to live with a real-world faith. (Ezekiel 34.13)
Shepherding is the daily activity of living life with the sheep and caring for them constantly. Jesus speaks of our responsibility to care for the sheep and live with the sheep as the process of discipleship and training. You can't make an impact from a distance. Remember the verses we read earlier?
"Therefore, go and make disciples of all the nations, baptizing them in the name of the Father and the Son and the Holy Spirit. Teach these new disciples to obey all the commands I have given you. And be sure of this: I am with you always, even to the end of the age." (Matthew 28:19–20, NLT)
When a wandering sheep continues to wander off, the shepherd goes to some extreme measures to get it to stop wandering. The shepherd will break one of the legs of the sheep on purpose. Then, because the sheep cannot walk, the shepherd carries the sheep around his neck everywhere that sheep has to go. Talk about the burden of leadership! Why does the shepherd do that? Because the sheep needs to learn to obey and stay with the flock for protection! As a result of this extreme love, the heart of the sheep is deeply connected to the shepherd. A life-long bond exists and the sheep seldom ever wanders far from the shepherd again. Just as God trains the sheep that have lost and wandering, so should we.
But how will you train the lost and wandering you are rescuing? Great question! We disciple them so that they can disciple others! This leads us to the next action that we imitate from God as a Spiritual 1st Responder!
I will draw them into my small group for feeding, friendship and protection. (Ezekiel 34.13)
God is our example, and he tells us that when he rescues the lost and wandering He draws them into the flock.
"I will tend them with good pasture, and their grazing place will be on Israel's lofty mountains. There they will lie down in a good grazing place; they will feed in rich pasture on the mountains of Israel. I will tend My flock and let them lie down." (Ezekiel 34:14–15)
Think of the flock with me for a minute. Here is where the sheep gather and are cared for by the shepherd. As the Spiritual 1st Responder, the shepherd knows and leads the sheep. Remember what Jesus says …
"The shepherd walks right up to the gate. The gatekeeper opens the gate to him and the sheep recognize his voice. He calls his own sheep by name and leads them out. When he gets them all out, he leads them and they follow because they are familiar with his voice." (John 10:2–4, The Message)
This is what David meant about how God cares for us, His sheep, when he wrote  …
"The Lord is my shepherd; I have all that I need. He lets me rest in green meadows; he leads me beside peaceful streams. He renews my strength. He guides me along right paths, bringing honor to his name."
(Psalm 23:1–3, NLT)
As we imitate God, and Jesus, we shepherd the lost and wandering by drawing them into our small group. It is there that they are fed from the Word of God, strengthened through the relationships and protected by the care of a shepherd.
You see, we can wrap the whole thought of today's study into one phrase. Like God, as a Spiritual 1st Responder …
I will care and protect them as my own family.
This is the declaration of the Lord God. "I will seek the lost, bring back the strays, bandage the injured, and strengthen the weak, but I will destroy the fat and the strong. I will shepherd them with justice." (Ezekiel 34:15–16)
As a Spiritual 1st Responder it is our loving responsibility to seek out the lost, bring back the strays, bandage the injured and strengthen the weak. All the while, we protect them from the predators – here described as "the fat and the strong."
Why would we do all of this?
"Love your neighbor as yourself." (Matthew 22:39)
Spiritual 1st Responders do not wait for someone to tell them to rescue the lost. It is their prime mission to do search and rescue from wherever the lost have been scattered to. They are the first ones to respond when someone goes missing – calling on their small group to assist them in the rescue, recovery and return of the lost one to the flock of God.