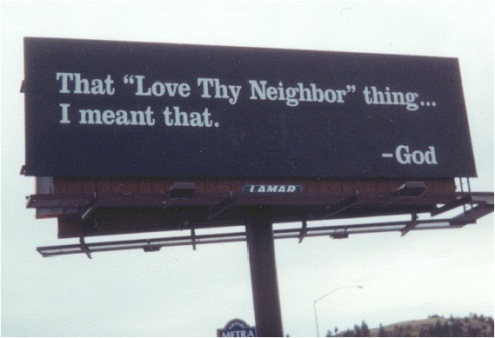 Today I want to make a confession. Today I want to tell you the one command of God I neglect to obey the most. Would you like to hear what it is?
"Love your neighbor as yourself." (Matthew 22:39)
You see, I simply have chosen to ignore my neighbors almost all of my Christian life. And why not? I have more important things to do. You may ask me what those things are and I would tell you that for most of my Christian life I have focused my time and energies on the following …
Preparing for Sunday School
Going to Sunday School
Preparing for worship
Attending worship
Preparing for Sunday Night Service
Going to Sunday Night Service
Preparing for Bible Study
Going to Bible Study
You see, the reason for my greatest sin of ignoring and neglecting to love my neighbor was too much Bible Study! Now, before you judge me too hard, you have to understand, I was taught that this was the Christian life!
I was told that, in order to be a good Christian, I had to attend Bible studies and Christian events.
I was told that, in order to be a good Christian, I have to avoid the sinners and stay with the saints.
And I bought it – all of it! Besides, as a pastor, that's what the people wanted – Bible studies. And what do I love to do? What am I gifted to do? Teach! So, it seemed like a no-brainer! This was God's will for my life and the life of the congregations I pastored.
And everything was hunky-dory until a few years ago Our dear friend, Alice Dalager, took a 13-week, 2 hour-a-night class I taught at church – did I mention I love to teach and am gifted to teach?
When we were wrapping up the class, I asked each student to give some feedback so the next time I taught the class I could improve it. What Alice said has haunted me ever since. Here's what she said,
I've learned that Jesus spent a lot less time in church than I do.
We waited because she was obviously not finished yet with her thought. Then she concluded …
Perhaps that's why He was so much more effective than I am.
Wow! You could have knocked me over with a feather! I have been rereading my Bible and studying what Jesus did (and the rest of the Bible leaders) ever since.
And do you know what I've found? I've found that she was right!
Jesus never intended for His people to attend endless Bible studies, worship services and Christian events!
In fact, it is very obvious by the way Jesus and the disciples operated, that they would find this type of lifestyle a direct disobedience to what God intends for us.
Focusing Our Direction On Our Neighbor
In other words, this is serious stuff we are talking about. Can you see why I said this was the most neglected command of Jesus in my life? What's worse, this is the SECOND command – as important as the first one Jesus gave us! Remember the context of the second commandment?
"Teacher, which is the most important commandment in the law of Moses?" Jesus replied, " 'You must love the Lord your God with all your heart, all your soul, and all your mind.' This is the first and greatest commandment. A second is equally important: 'Love your neighbor as yourself.' The entire law and all the demands of the prophets are based on these two commandments." (Matthew 22:36–40, NLT)
Jesus is a genius. He's the smartest guy ever. "Love God with all your heart, soul, and strength, and love your neighbor as yourself—it's a simple, strategic plan that would change the world if every believer did it.
In other words, if we are to love our neighbor as ourselves, we need to make sure the men and women, teens and children around us are as cared for

by us

as we have cared for ourselves.
Why? Because that's the way Jesus cares for us!
He has forgiven us – as we have learned these last 3 months – when we didn't ask to be forgiven.
He has made a way for us to be reconciled to Him, even when we didn't ask for it.
He moved into our neighborhood so that He could love us as a community as well as individually.
He has stepped out and come to us (Rom 5.8) – He crossed the street so to speak – (Phil 2.5-8) – to connect with us.
We are to love our neighbor by imitating the very heart and actions of God through Jesus Christ.
"Therefore, be imitators of God, as dearly loved children." (Ephesians 5:1)
"And you should imitate me, just as I imitate Christ." (1 Corinthians 11:1, NLT)
If you are half awake right now, one of the questions that should be buzzing around your head is,
How can I care for the needs of my neighbors if I don't know their names, much less their needs?
That's a GREAT question! If we are going to meet needs, we need to know names – actually, we need to know our neighbors!
If you don't know the names of your neighbors, you are not alone! In 2010, the Pew Internet and American Life project asked more than 2,200 adults about their communities.
Some 28% (about 1 out of 4) didn't even know the name of even one neighbor!
Only 19% (1 in 5) said they knew all of them!
So what do we do? Did you take a few minutes to play the game we gave you with a friend before the service began or after our prayer time?
Well, we play Tic-Tac-Toe with our neighbors! The middle box represents your residence. The ones around you represent those surrounding you, whether they are homes, townhomes or apartments. Here's ours so far …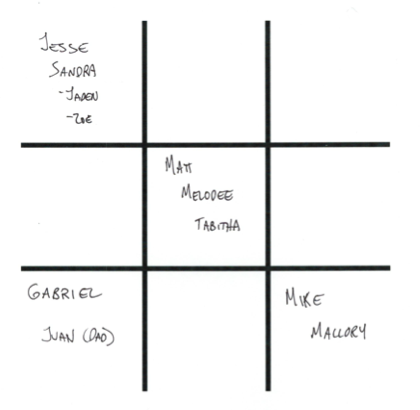 How did I get these names? This is what I have had to do:
Go outside!
I am getting to know my neighbors. All I do is walk outside when I see / hear them outside. When I am inside, I have 0% chance of connecting with them. When I go outside, I have a better than 50% chance of connecting.
Listen well!
Jesus' outreach included speaking and silence. We need to study our neighborhoods as well as we study our Bible.
Who lives near me – what are their names?
What do they do for a living?
How old are their children?
How long have they lived here?
Where are they from?
What's going on in their lives?
What do they talk about? – Most important = most talked about.
Such questions help create opportunities to know the stories and dreams of your neighborhood.
Listen to understand. Understand to love.
Get Training!
It helps to have some specific knowledge and a sensitive touch. Building a network of men and women to pray, talk and walk through your neighborhood with helps as you reach out. We want you to get involved in a small group again this fall if you haven't already been in one this spring.  
In these small groups we are going to teach you how to train another person to walk with Jesus Christ – the process is called discipleship. We want you to understand how to walk with Him and how to help others walk with Christ – just as we are told to do …
"Then Jesus came near and said to them, "All authority has been given to Me in heaven and on earth. Go, therefore, and make disciples of all nations, baptizing them in the name of the Father and of the Son and of the Holy Spirit, teaching them to observe everything I have commanded you. And remember, I am with you always, to the end of the age." (Matthew 28:18–20)
It would be absolutely worthless – in terms of eternity – if we helped people become comfortable while they sailed on the Titanic into a Christ-less eternity.
But remember our vision, which we talked about last week:
God is launching us into our NEIGHBORHOODS as care givers – Spiritual First Responders who actually care for the well being of the people who live around us – so that we might be the first person they come to for help of any kind!
We will talk more about that and have a registration table for that soon!
Hang on to the Gospel!
The Church throughout the centuries has split and fragmented time and again over the relationship of doing and telling, largely because of the confusion of God's mission. God has called us to "love our neighbor as ourselves." That means we love ALL of the person –
We love them
We love their spouses
We love their children
We love their lives
We love their souls
In order to accomplish this each one of us will have to:
"Love your neighbor as yourself." (Matthew 22:39)