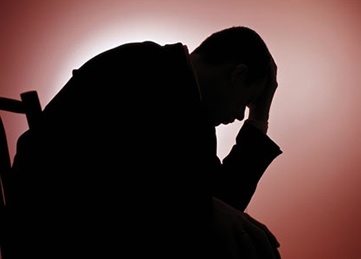 Photo Credit: carroll.edu
"Why am I so depressed? Why this turmoil within me?" (Psalm 43:5, HCSB)
We return to the anathema subject of depression in the Christian today because the Bible addresses the reality that many suffer from it, even those whose lives are focused on the worship of Almighty God.
While some misguided and insensitive saints have chosen to chastise their brothers and sisters in Christ, the reality is many are perplexed and in turmoil over their conditions and the power of God they read about in the Word of God.
The psalmists, too, found this conundrum unpleasing and damaging to their souls. They wrote about it after much contemplation, like most musicians do. As we review the lyrics, we find Psalm 43 and Psalm 42 are probably one song, broken into two parts. The chorus in Psalm 42.5, 11 is repeated in Psalm 43.5. As we read these words, we learn that …
When depressed, we are told to seek God's vindication. (Ps 43.1) The overwhelming oppression of terrorizing tongues has taken its toll on the psalmists. God hasn't worked on their behalf in a long time and they wish to see His power displayed – the power they read about in the Bible. Thus they plead for defense and rescue.
When depressed, we are told to question God's rejection. (Ps 43.2) Again, as in Psalm 42.9-10, we are instructed to call on God from a broken and confused heart. There is little that makes sense when the Lord of the Universe allows the children He loves to be crushed by the conquerors.
When depressed, we are told to crave God's presence. (Ps 43.4) Apart from a fresh visitation of God, the darkness will never depart. Until the circumstances and the soul are changed, the morbid feelings of futility will not be dispelled. Only in God's presence is there "fullness of joy and pleasures forevermore." (Ps 16.11)
When depressed, we are told to praise God's hope. (Ps 43.5) Here we see the chorus of this song of worship (see Ps 42.5, 11) sung again: "Why am I so depressed? Why this turmoil within me? Put your hope in God, for I will still praise Him, my Savior and my God." (Psalm 42:5, HCSB)
God inhabits the praises of His people. We are told "But thou art holy, O thou that inhabitest the praises of Israel." (Psalm 22:3, KJV 1900) If depression is to leave the child of God, then the presence of God is surely the antidote. His ability, His character and His love all seek to remove the fog of futility from the child of God.
It is God's personal guidance that will lead you out of the darkness into His marvelous light.  As David reminds us, "You will show me the path of life; In Your presence is fullness of joy; At Your right hand are pleasures forevermore." (Psalm 16:11, NKJV) Will you come into His presence today, take His hand and ask Him to lead you in His path of life for your life?