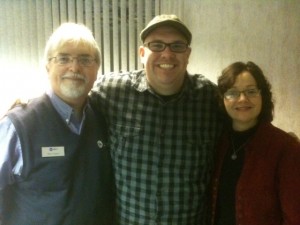 Our own Mike Powers caught up with Mike Weaver about their tour and their new song, "Love Come to Life!"
For more than a decade, Big Daddy Weave has been one of Christian music's most successful and musically compelling groups. Their songs, including hits like "In Christ," "Audience of One," "What Life Would Be Like," "Every Time I Breathe," "You Found Me" and "You're Worthy Of My Praise," have been among the genre's most treasured.
Formed at the University of Mobile, the quintet—Mike Weaver, Jay Weaver, Joe Shirk, Jeremy Redmon and Jeff Jones—has earned a reputation both for the musical conviction that has carried their songs to the top of the charts and for the joy and passion that have made their live performances such moving and memorable experiences.
Big Daddy Weave has also compiled a stellar list of milestones: "One And Only" debuted in SoundScan's Christian Top 5 and stayed in the Top 20 for six weeks; "In Christ" peaked at #2, stayed for 24 weeks on R&R's AC chart, and became one of ASCAP's 25 most performed songs of 2002; the group was nominated for a Dove Award as New Artist of the Year in 2002, honored at ASCAP's Christian Music Awards in 2003 and 2004, chosen for the WOW Hits compilations in 2006, 2007, 2008, 2010 and 2011, and won a Dove Award for Christmas Album of the Year in 2010.
"The Ultimate Collection" summarizes the group's career to this point and, with their new single "Love Come To Life," points the way to one of music's most promising futures.