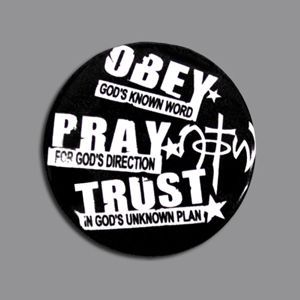 God Enjoys Our Purity and Obedience
"Then the Lord said to Satan, "Have you considered My servant Job, that there is none like him on the earth, a blameless and upright man, one who fears God and shuns evil?" " (Job 1:8, NKJV)
Does God enjoy your practice of personal purity and your obedience to him? As I was reading Job 1, I was enthralled by several things …
That God pays attention to his children so closely – which cause me to pray: "Thank you for being a God who is attentive and personal with your kids!"
That God delights in our lifestyle choices when they follow his instructions – which prompted me to pray, "Thank you for being a God of wisdom and goodness!"
That God blesses us when we follow his directions (note Job 1.1-3) – which led me to pray: "Thank you for being a God who wisely desires our best and pours out your hand of blessing when we follow you!"
As I looked at these descriptions of Job that God himself refers to, I am also touched by what he specifically notices – what I will call, "the character of those God commends." Note that he points out specifically that Job was …
Blameless – God finds those who live their lives without injuring others to be models of his heart!
Upright – God loves to brag about those children who choose the path of right, spiritually, socially (note Job 4.2-3), etc.!
Fears God – God applauds the child that understands their place and who longs for his favor upon their lives!
Shuns evil – God rejoices over the children that depart from the road of short-term self-serving which leads to destruction, either in this life, the next or both!
As I meditated on these things, I confessed my need to be more like Job and less like me. (Perhaps you can identify with some of these thoughts. Maybe my thoughts will bring others in your life to mind.) "I so long to be …
"Blameless in your sight – forgive me for injuring people with words and attitudes. Forgive me for thinking more of myself than of others.
"Upright in my dealings with others – forgive me for shading the truth or hiding the truth to get my way. Help me to make choices that honor your name, for in each of these examples I have given, I have dirtied your name and fouled your fame.
"One who fears God – forgive me for doubting you, your power, ability, wisdom, love. So many times I worry, my signature that you are not who you say you are. My situation is so simple for you to solve. How I long to trust in such a way that demonstrates that I understand my place and who you are. I long for your favor upon my life!
"One who shuns evil – forgive me for even entertaining evil in my mind. You have been so gracious to help me avoid evil with my actions – though I am far from perfect, I am much better than I have been. I despise the evil, it's consequences and the injury it does to your heart. Please help me to depart from the road of short-term self-serving that leads to destruction, either in this life, the next or both! I long to be one whom you rejoice in b/c I shun evil from thought to action!
"Your kingdom come, your will be done, on earth, in my life and in my family's life, as it is in Heaven."
Such a passage has incredible implications as to who God is, what he delights in and where I need to lead my life. Perhaps you have seen others? I would love to hear about them! Use the comment form below.