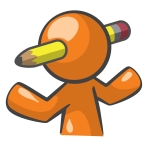 Clip Art Credit: clipartillustration.com
Editor's Note: We continue our series of blogs for those who are reading the Bible with us cover-to-cover this year. Interspersed with our thoughts on our daily reading, we want to provide some tips about reading the Bible in general.
Job: Why Do Good People Suffer?
Pulling back the curtain of eternity, God reveals to us the inner workings of his world, the Throne Room of God. While Job doesn't answer all the questions we might have, it surely explains many things that bother the most simple-thinking human.
As we look into this book, we discover it is broken into five clear sections. We want to explore each one.
Sometimes People Suffer Because God Trusts Them
We first learn that …
Suffering can happen because God is bragging about you! (Job 1-2)
Suffering often crushes us! Through the shock we wonder, "What did I do to deserve this?" But this may be the wrong question. Job surely didn't deserve the pain he went through.
Consider the character of this crushed man: His name means, "Repentant One," showing us he lived in a state of favor with God. He carried the reputation of being blameless – no one could lay a charge at his feet. He feared God and shunned evil. God had given him seven sons – a sign of God's favor, as well as three daughters as a heritage. He was prosperous, held position of high esteem as the greatest of all the people of the East. With all of this in his favor, he never took any of it for granted. He constantly concerned himself for his children's spiritual well being.
As you reflect on these opening chapters, you quickly realize that Job's problems resulted, not from his failures, but from his successes. What we see here is a disgusted enemy of God – Satan – tired of Job's blessings and a thrilled Father in Heaven – God – bragging about Job's faithfulness.
In the paragraphs that follow, we see that God is bragging about Job's integrity and spirituality and Satan wants to test it by stripping him of every blessing God has given him. Consider the immensity of God's losses – in one day Job loses his industry, his prosperity, his commerce and his posterity! To our shock and horror, God agrees – with limits.
And so, the question we should ask when we go through times of extreme suffering is this: "How have I pleased God so that he would entrust to me this opportunity to shine for His name and fame to all who know and hear of my situation?" This is the lesson of Job and the pages that follow in his journal of suffering.
Wrapping our minds around these two chapters surely brings about great hours of pondering and review of the text. Yet, there is one clear lesson in this passage: Often the good person suffers to display their trust in the God they have professed and been blessed by so that others may come to know and love Him too!
Once we understand the real question to ask, we then turn our attention to the fact that …
Suffering can be intensified by lousy friends who mean well! (Job 3-31)
In this passage, you will meet Job's three friends, who at first come and do the right thing – they empathize and remain silent. Who can measure the grief that Job has felt? Like all good friends, they have stayed in communication; they care and are considerate of him and his situation. They show compassion and connect with him by sitting with him, showing their contrition to God as well. Their commitment to Job is to be applauded as they sit with him for seven days and are considerate of his pain by remaining silent.
But as time passes and Job aches verbally, their true natures arise and all of the good they have done in the first week is quickly erased in the days that follow. Consider these three "friends" and how they intensify the pain of Job …
Eliphaz – You have foolishly sinned and God is punishing you!
Bildad – You should repent because this only happens to sinful people!
Zophar – You are a wicked man and have deceived yourself. You need to get right with God!
In round after round Job's friends attack him – meaning well, but woefully ignorant of the facts or the scene in Heaven. When Job protests his innocence and calls them to account, they take up their cause again.
Lessons abound in this portion of the text, but one strong truth is this: Comfort the aching and allow God to bring about heart change – no one converts at the end of an accusation!
It is our hope that this background information helps a bit as you read on in the Bible.
For daily insights into the passage we are reading together each day, you can follow Dr. Smith on Twitter and on Facebook.
You can obtain more help from the FREE Bible reading schedule on our resource page. In His Image is a daily devotional that also follows our reading schedule and expresses the Biblical truth: "God Created You to Love You." You can find this resource on the side bar of our website.
Join Dr. Smith in Bell Gardens, CA This Month!