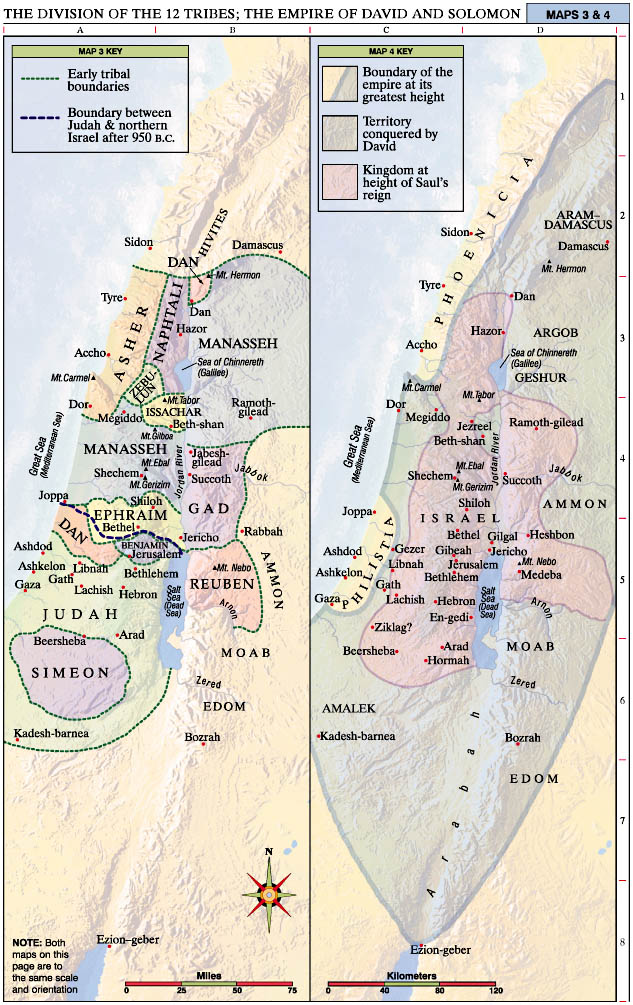 Map Credit: jesusreigns.wordpress.com
Editor's Note: We continue our series of blogs for those who are reading the Bible with us cover-to-cover this year. Interspersed with our thoughts on our daily reading, we want to provide some tips about reading the Bible in general.
1 Chronicles:
The Spiritual Life of David (about 40 years)
Remember that in this book we see the victories of King David. Missing are most of the failures we are more familiar with. Clearly the author intended for the reader to comprehend the cause-and-effect relationships between David's spiritual lifestyle and his successes. We are breaking the book into six sections. Let's look at the last section today …
The Last Days of David (1 Chronicles 28-29)
As David's life comes to an end, we see him wrapping up a long-lived, God-centered life by focusing on his legacy – the next generation. As we read this section we discover that the Lord restricted David from the construction of the temple because he was a "a man of war" and had "shed blood." (1 Chronicles 28:3)
We also discover that the Lord chose Solomon to build the Temple and promised him an everlasting kingdom if he followed close to God! Note closely the words of warning and promise given to Solomon by David:
""And you, Solomon my son, know the God of your father and serve him with a whole heart and with a willing mind, for the Lord searches all hearts and understands every plan and thought. If you seek him, he will be found by you, but if you forsake him, he will cast you off forever. Be careful now, for the Lord has chosen you to build a house for the sanctuary; be strong and do it." " (1 Chronicles 28:9–10, ESV)
In the final chapter, David completes his life by taking care of all the loose ends he can think of. It is a testimony of this man of God that we read in the New Testament these words:
"For David, after he had served the purpose of God in his own generation, fell asleep and was laid with his fathers and saw corruption, " (Acts 13:36, ESV, Emphasis added)
In this section we can see:
David instructs Solomon in how to build the temple. (28)
David provides Solomon with the materials to build the temple. (29)
The lesson from this section of God's Word: Serve God's purposes passionately, plan for your legacy and know God's pleasure as you step into His presence.
It is our hope that this background information helps a bit as you read on in the Bible.
For daily insights into the passage we are reading together each day, you can follow Dr. Smith on Twitter and on Facebook.
You can obtain more help from the FREE Bible reading schedule on our resource page. In His Image is a daily devotional that also follows our reading schedule and expresses the Biblical truth: "God Created You to Love You." You can find this resource on the side bar of our website.
Check out Dr. Smith's review of Larry Osborne's book, Sticky Teams!
Sticky Teams is a must read for pastors and church leaders who want their board, staff and church to function well in the long-term. Larry Osborne is a veteran pastor who has enjoyed a long-term pastoral relationship with North Coast Church in Northern San Diego County.
Sticky Teams aims to shore up the foundation of a healthy team, "because even the clearest vision, greatest innovations, and most stellar programs won't make much of an eternal difference if our ministry and leadership teams are mired in the deep weeds of disunity and conflicting agendas."
You can read the whole review here.