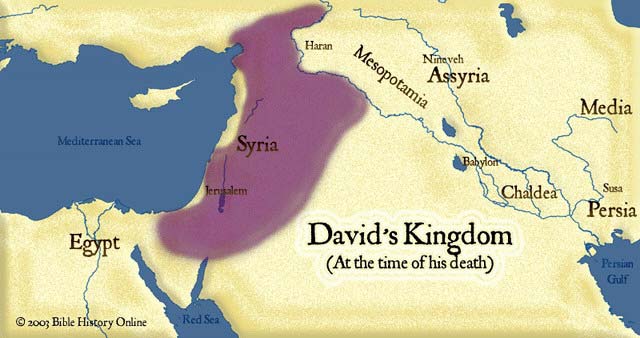 Map Credit: bible-history.com
Editor's Note: We continue our series of blogs for those who are reading the Bible with us cover-to-cover this year. Interspersed with our thoughts on our daily reading, we want to provide some tips about reading the Bible in general.
1 Chronicles:
The Spiritual Life of David (about 40 years)
Remember that in this book we see the victories of King David. Missing are most of the failures we are more familiar with. Clearly the author intended for the reader to comprehend the cause-and-effect relationships between David's spiritual lifestyle and his successes. We are breaking the book into six sections. Let's look at section two today …
The Kingdom of David (1 Chronicles10-12)
The seeds of Saul's disobedience and breach of faith with the Lord have come to fruition now as he dies on the battlefield. Note the spotlight shows that Saul's visitation of a psychic was the final straw before his death. (Revisit 1 Samuel 28 for the details of the story.)
It is in this horrific national loss that God moves a man after His own heart, David, into the forefront of the leadership of Israel. Note in this section how David works to promote his "mighty men" based on their exploits.
In this section we can see:
The death of King Saul. (1 Chronicles 10)
The anointing of King David. (1 Chronicles 11)
The conquerors under King David. (1 Chronicles 11-12)
The lesson of this section of God's Word: Wise leaders only promote those who actually have accomplished something.
It is our hope that this background information helps a bit as you read on in the Bible.
For daily insights into the passage we are reading together each day, you can follow Dr. Smith on Twitter and on Facebook.
You can obtain more help from the FREE Bible reading schedule on our resource page. In His Image is a daily devotional that also follows our reading schedule and expresses the Biblical truth: "God Created You to Love You." You can find this resource on the side bar of our website.
Host a "Reaching Your Community in Your Generation Weekend" in your area!
The world around us changes approximately every 18 months! Such change brings great challenges to our mission. Eagles In Leadership has designed a weekend to help you energize your congregation or organization to fulfill the Great Commission in your community. You can bring this weekend to your church or organization! You can learn more about how to do this here.