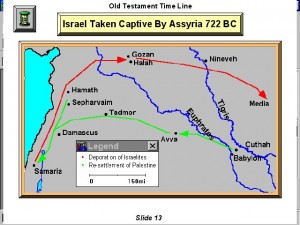 Artwork Credit: biblesearch.com
Editor's Note: We continue our series of blogs for those who are reading the Bible with us cover-to-cover this year. Interspersed with our thoughts on our daily reading, we want to provide some tips about reading the Bible in general.
2 Kings: The Invasion and Captivity of Israel By Assyria (about 300 years)
Second Kings is a recounting of the destruction of both sides involved in the Civil War of Israel. It demonstrates the constant warnings of God through His prophets, attempting to call His people back to Himself. Also shown is the limits of God's grace to a people who are stubborn and rebellious. We will split the book into halves. First, we will read about …
The Fall of the Northern Kingdom (2 Kings 1-17)
In this section note …
The ministry of Elisha the prophet. (2 Kings 1-8)
The struggles of the Kings of Israel and Judah. (2 Kings 9-16)
The fall of Israel. (2 Kings 17)
It is our hope that this background information helps a bit as you read on in the Bible.
For daily insights into the passage we are reading together each day, you can follow Dr. Smith on Twitter and on Facebook.
You can obtain more help from the FREE Bible reading schedule on our resource page. In His Image is a daily devotional that also follows our reading schedule and expresses the Biblical truth: "God Created You to Love You." You can find this resource on the side bar of our website.
Technical Difficulties Last Week
For those reading these blogs through our Emailer, we apologize for you missing the week's posts. A technical error caused the posts not to feed into the Emailer. However, all of the posts are available at our website and you can read them all here.