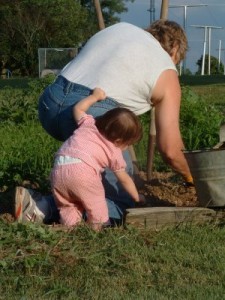 Editor's Note: We continue our series of blogs for those who are reading the Bible with us cover-to-cover this year. Interspersed with our thoughts on our daily reading, we want to provide some tips about reading the Bible in general. Today we want to explore …
Weeding the Garden of My Soul
Repenting of Daily Sins
"Search me, O God, and know my heart; Try me, and know my anxieties; And see if there is any wicked way in me, And lead me in the way everlasting. " (Psalm 139:23–24, NKJV)
"How many are my iniquities and sins? Make me know my transgression and my sin. " (Job 13:23, NKJV)
Each morning, in my time alone with God I pray these two prayers by these two giants of the faith. I am captivated by the power of their words. They make a time of reflection for me, as I wait for God to answer. After praying them, I wait for God to answer my prayers, and he most certainly does!
I have learned there are 6 things I need to weed from my soul every day.
I need to weed out my heart. Here is who I am, what I feel, how I act all wrapped into one word. The "heart" is often spoken of as meaning heart, mind, inner person. The primary usage of this word describes the entire disposition of the inner person that God can discern.[1] How often do I need God to show me where I have allowed the weeds of faithlessness and selfishness to creep in and grow?
I need to weed out my anxieties. What surprised me was this one – those disquieting thoughts that take away the peace (shalom) of God from my heart and soul. I have come to realize that when I am anxious (read: worry), I have lost my faith in God's ability to resolve my problem and that he has already allowed into my life to test my faith (James 1.3).
I need to weed out my wicked ways. While I need to avoid the blatant sins this would immediately conjure up, there is a more subtle, practical reality at the core of this failure before God. Essentially this is the sin of irritability and anger, which often breaks out upon others. The [word "wicked"] relates to physical pain as well as to emotional sorrow.  Words similar in Hebrew are "to writhe," "to be hot (with anger)," "to grieve," "to become tired, weary," "to be irritated, angry," "to be bitter, despairing," "to feel a disgust," "to trouble" (Ps 78:41), and the noun "turmoil."[2] This is a common weed in times of stress.
I need to weed out my iniquities. So often I get off the path of God's plans for my life. I take a turn God never intended. In every instance, I realize it when I feel lost or I am in pain. Repenting (turning around) and seeking direction is at the center of my time alone with God at this point.
I need to weed out my transgressions. The fundamental idea of the root is a breach of relationships, civil or religious, between two parties.[3] How many times have I come to God asking for forgiveness and help with broken relationships – either with him or with others? And God answers! I can't survive long without repairing relationships.
I need to weed out my sins. At its core, this is the most generic of the areas I need to ask God's light to shine on. I simply ask God to show me where I've missed the mark in his sight, just as a dart thrower misses the bull's eye. So often I just miss the mark and don't accomplish what God desires.
Perhaps now you can see why I need to weed the garden of my soul each morning. Maybe you do too? I am sure you have learned some ways to do this that would be beneficial to all of us! Would you be willing to share what you have learned with the rest of us by leaving a comment? Thank you!
It is our hope that this background information helps a bit as you read on in the Bible.
For daily insights into the passage we are reading together each day, you can follow Dr. Smith on Twitter and on Facebook.
You can obtain more help from the FREE Bible reading schedule on our resource page. In His Image is a daily devotional that also follows our reading schedule and expresses the Biblical truth: "God Created You to Love You." You can find this resource on the side bar of our website.
---
[1]
Baker, W. (2003).
The complete word study dictionary : Old Testament
(537). Chattanooga, TN: AMG Publishers.
[2] Harris, R. L., Harris, R. L., Archer, G. L., & Waltke, B. K. (1999). Theological Wordbook of the Old Testament (electronic ed.) (687–688). Chicago: Moody Press.
[3] Harris, R. L., Harris, R. L., Archer, G. L., & Waltke, B. K. (1999). Theological Wordbook of the Old Testament (electronic ed.) (741). Chicago: Moody Press.