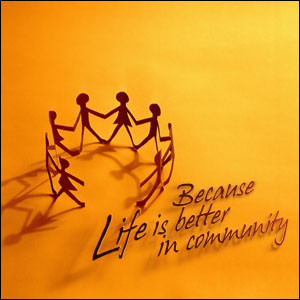 Artwork Credit: currie-baptist.org.uk
Often church leaders ask me, "How can we help our people care for one another more? I like to refer them to Acts 2 and ask them if they have a dynamic small group ministry.
When I first came to faith, I joined a small group (long before they were popular or even named "small groups"). Those key leaders of 3 generations discipled me and encourage me. I can safely say that the depth of my faith came as we did life together. I was discipled, disciplined and directed into the mission of Jesus through these dear men and women who became more than friends, they are family to this day!
Those dynamics, and so many more, are part of the original plan of Jesus found in the New Testament. Let me say clearly that small groups are born as people gather in genuine love and care for one another. (Acts 2.42-47)
1.      In a small group we are able to talk freely about the things that matter most to everyone. (Acts 2.42)
We are able to talk about the Pastor's message and how we are working it out in our daily lives.
We are able to draw closer to one another and discover the joys and burdens others are living through.
We are able to enjoy great food from the hands of those who come together, thus revealing who we are all the more.
And we are able to immediately pray for the burdens of those who are dear to us, showing our love and compassion.
2.     In a small group, we are able to share in the financial and practical needs of those in our growing spiritual family. (Acts 2.44-45) And in the small group is where the church meets the needs of others!
When we gather in our small group, we become a family, a unity of God's people in a place!
When we gather for small group, we care enough to meet each other's needs, as a family would normally do.
When we leave the small group and head for home, the Spirit of God motivates us to consider ways we could meet the needs of those at the meal.
When we give sacrificially, we invest with the love of God in such a way so as to bring joy and praise to all who hear!
3.     As the small groups continue over time, this practical demonstration of the love of God wins the hearts of men and women. (Matthew 18.20; Acts 2.46-47)
Assembling for worship every week was essential to their spiritual understanding in their hearts.
Meeting for fellowship in their homes every week was vital to the spiritual demonstration of their faith.
Combining these dimensions of the spiritual life each week was essential to their spiritual magnification of God!
Gathering for small groups in their homes each week was critical to their spiritual evangelism of the world.
If you would like help with small groups, leadership development or the discipleship process, we are here to help you with all of your leadership needs. Contact us for individual, leadership team or corporate consultation.