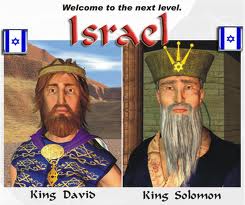 Artwork Credit: forums.civfanatics.com
Editor's Note: We continue our series of blogs for those who are reading the Bible with us cover-to-cover this year. Interspersed with our thoughts on our daily reading, we want to provide some tips about reading the Bible in general.
1 Kings: The Rise and Fall of a Nation Leading to Civil War (about 130 years)
The book of 1 Kings traces the history of the northern ten tribes during the civil war of Israel (called Israel in this section of the Bible). We watch as these kings all reject God and follow the practices of idolatry and wickedness.
The Rise of the Kingdom of Israel in Splendor (1 Kings 1-11)
As David passes from the scene, his legacy continues on. In both the good and the bad, David's influence and effect is seen in the reign of his son Solomon. Notice the opening days of the new King of Israel, Solomon …
As the days of David's life grows short, David proclaims his son Solomon as King of Israel. (1)
As the days of Solomon begin, Solomon avenges his father David upon the enemies that would undermine his leadership in the future. (2)
As the days of Solomon continue, Solomon requests wisdom from God to lead the people of Israel, and God gives him wisdom and riches and honor. (3)
As the days of Solomon are established, Solomon prepares and builds the temple of the Lord, desired and designed by his father David. (4-7)
As the days of the Temple construction end, Solomon dedicates the temple in a prayer that God honors for the rest of the days of the Bible. (8-9)
As the years of Solomon continue, Solomon turns from the Lord by not controlling his lust for foreign [read: ungodly] woman. (10-11)
It is our hope that this background information helps a bit as you read on in the Bible.
For daily insights into the passage we are reading together each day, you can follow Dr. Smith on Twitter and on Facebook.
You can obtain more help from the FREE Bible reading schedule on our resource page. In His Image is a daily devotional that also follows our reading schedule and expresses the Biblical truth: "God Created You to Love You." You can find this resource on the side bar of our website.
Check Out Dr. Smith's latest blog on ChurchCentral.com!
Almost Isn't Good Enough is call to live out the compassion of Jesus' heart in a world of suffering and hopelessness. A man who decided one day to make a difference globally writes about what he has learned, hoping to challenge you to make a difference in your world in your generation. Read more here …