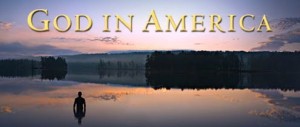 PBS, FRONTLINE AND AMERICAN EXPERIENCE
REVEAL CRITICAL ROLE OF RELIGION IN AMERICA, BOTH PAST AND PRESENT
Follow the Political and Spiritual Journeys of Religious Figures to Uncover How Religious Faith Shaped America
We have just finished a thorough review of this monumental film series and highly recommend it to everyone. It is comprehensive and speaks predominantly from the voices of the past concerning their faith, struggles, hopes and dreams.
God in America paints with a broad brush, and seeks to find the value and the issues that shaped America through religious freedom. PBS, Frontline and American Experience examine how and why religion has played an underlying role in shaping American culture, ideals and democracy in the new series God in America, which is now available on DVD.
"This compulsively watchable documentary manages to make our country's religious history as thrilling as any Dan Brown novel…. the complex relationship between democracy and faith is a story line that never gets old," reports Elle magazine.
While I was reviewing the series, I was also writing a History of Christianity in America course for a large Christian University. The review team agreed that the value of this series was significant enough to include it as a resource for the students.
For those who know that in America religion matters, and for those who wish it didn't matter so much, comes God in America, a sweeping history of how religious faith has shaped America. Interweaving documentary footage, historical dramatizations, and interviews with religious historians, this documentary series from the award-winning producers of American Experience and Frontline is an in-depth exploration of the historical role of religion in the public life of the United States.
Examining the complex interaction between religion and democracy, the origins of the uniquely American concept of religious liberty, and the controversial evolution of that ideal in the nation's political arena, God in America considers the role religious ideas and institutions have played in social reform movements, and how guarantees of religious freedom created a competitive religious marketplace in America.
The series explores its themes through a series of emblematic stories of the country's religious history, and the political and spiritual journeys of important historical figures, including :  the Pueblo leader Po'pay, Puritan leader John Winthrop and dissident Anne Hutchinson, early evangelist, George Whitfield Catholic Bishop John Hughes, abolitionist Frederick Douglass, Presidents Thomas Jefferson and Abraham Lincoln, Methodist circuit ridr James Finley, Reform Rabbi Isaac Meyer Wise, Presbyterian biblical scholar Charles Briggs, Scopes trial combatants William Jennings Bryan and Clarence Darrow, evangelist Billy Graham, civil rights leader Martin Luther King, Jr., and the Moral Majority's Jerry Falwell.
PBS has provided amazing resources on their website to supplement your viewing and study pleasure. We are sure that this DVD series would make an excellent addition to your video library and your understanding of how faith has shaped, and continues to shape, the fabric of America.
To order a copy of God in America here.
You may also order God in America or any other PBS titles, please call (800) PLAY-PBS or visit shopPBS.org.  To purchase DVDs with public performance rights, please visit ShopPBS.org/education.
###
ABOUT PBS DISTRIBUTION
PBS Distribution is the leading media distributor for the public television community, both domestically and internationally.  Jointly owned by PBS (Arlington, VA) and WGBH (Boston, MA), PBS Distribution extends the reach of public television programs beyond broadcast while generating revenue for the public television system and our production partners.  PBS Distribution offers a diverse range of programming to our customers, including Ken Burns's films (The National Parks, The Civil War, Baseball,), documentaries from award-winning series NOVA (The Elegant Universe, The Miracle of Life), FRONTLINE (Growing Up Online, Bush's War), and American Experience (Earth Days, We Shall Remain), dramas from Masterpiece (Jane Eyre, Inspector Lewis), films from independent producers (The Buddha, The Story of India), and popular children's programming from Super Why!, Wordgirl, Cyberchase, and Arthur.