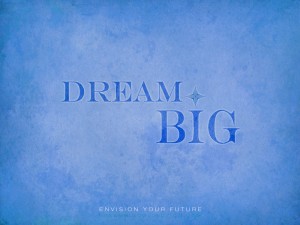 Artwork Credit: dreambigcollection.com
This is the final post in our series, "What Are You Dreaming About?" Today I wrap up our series by focusing our attention on what we are trying to achieve in this life. I thought I would share my heart with you in an attempt to get your juices going.
Since I am looking for a full-time position in ministry, as a senior pastor, or a staff pastor in the area of discipleship, leadership and / or missional outreach. This has caused me to refocus and rearticulate the dream God has put in my heart.
Perhaps my dreaming will stir your heart and soul and cause you to revisit your dreams. Today I want to share my dream for accomplishment. What do I see myself accomplishing for Jesus Christ with the remainder of my life?
I dream about building people with a desire to serve where:
o   Selflessness is encouraged, sacrifice and service to others are praised – they are standards, not exceptions.
o   People ask, "What can I do for you?" – when a particular ministry or event doesn't "ring their bell" they ask: "How can I help?"
o   People become "care-givers," thus allowing the church to add less staff because people take up the bulk of ministry – much like the early church in Acts!
o   The ministry is being filled with the spiritually mature; People read their Bibles, pray with great fervor, create new ministries, seek out their lost friends and bring them to Christ and into fellowship within the local church; as a result the church grows numerically and spiritually annually.
o   The ministry is becoming a hospital for the wounded and an army for the Gospel advance. New babies are wonderful! In this church, growing members from within the local ministry care for them and they grow to reach others!
o   The ministry is bringing great glory to God because people are maturing in their faith and reaching out to their Jerusalem, causing God to be thrilled and His heart overwhelmed!
o   The ministry is becoming ministry driven, meaning "it is not about us!" – we serve others, meet their needs, and care for them – as we would Jesus – this is the attitude found among the members of this ministry.
What you want to accomplish for Jesus? Would you like to share it with us? I would love to hear what God is doing in your heart and soul! Perhaps your dream will connect with someone else as you share it. (And of course, if you like my dream and it connects with your ministry, I am looking for a full time position.)
You can follow Dr. Smith on Twitter and on Facebook.
You Can Book Dr. Smith For Your Meeting or Event!
"Dr. Matthew Smith has a passion and love for God's Word and for God's people. He lives to equip God's church and He uses many of his God-given talents to galvanize, energize and equip the body of Christ. Dr. Smith not only has the brilliant mind but also a humble heart. The best sermon I heave heard him preach is the life he lives. He is a loving father, family leader and a leader in the faith community. I recommend him without hesitation."
By Daniel Mehrabian, researcher at Araratministries, (Greater Los Angeles Area)
Biblical leadership, passionate evangelism and discipleship, a missional heart and lifestyle, authentic personal relationship with God – Dr. Smith will come to your church or organization and speak on any of these areas.
We have open dates in April, May and June and would love to talk with you about making your meeting, event or worship service a special time of growth, joy and inspiration. For more information, contact us at admin[at]EaglesInLeadership.org (of course, remove the [at] and replace it with @). We look forward to your email!