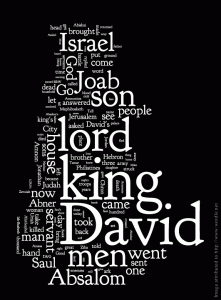 Artwork Credit: identity33.com

Editor's Note: We continue our series of blogs for those who are reading the Bible with us cover-to-cover this year. Interspersed with our thoughts on our daily reading, we want to provide some tips about reading the Bible in general.
2 Samuel: The Reign of King David (about 40 years)
As we watch the reign of David, we discover that one can be "a man after God's own heart," but still suffer the consequences of willful sin. As David begins, everything looks great and God blesses. As time passes, David's failings lead him into horrible sin, the consequences of which neither he, nor his family line, are able to shake. Watch as we follow his life in three major parts. We begin by looking at …
David's Triumphs Are Caused By His Obedience to God (1-10)
The heart of David the leader is seen in this section. Notice his refusal to "gloat," yet his practicality in accepting the leadership of Israel, which God had promised years before. We see David's heart in four specifics in this section.
• When the report of Saul's death comes to David, he respects and mourns the death of the King. (1)
• When David is anointed King of the tribe of Judah, he fights and weakens the forces of Saul's successor and Son Ishbosheth. (2-4)
• When the report of King Ishbosheth has been murdered comes to David, Israel sends for and requests that David be made King of all Israel. (5)
• When David becomes King of all Israel, after seven and a half years of ruling over he single tribe Judah, David conquers and establishes Jerusalem as the capital of His Kingdom. (6-10)
These are great advances for the people of God, and for David individually. However, with great power comes great responsibility. We will see later in this book that David fails the test of power, and that God is gracious to him, to a point.
It is our hope that this background information helps a bit as you read on in the Bible.
For daily insights into the passage we are reading together each day, you can follow Dr. Smith on Twitter and on Facebook.
You can obtain more help from the FREE Bible reading schedule on our resource page. In His Image is a daily devotional that also follows our reading schedule and expresses the Biblical truth: "God Created You to Love You." You can find this resource on the side bar of our website.
You Can Book Dr. Smith For Your Meeting or Event!
"Dr. Matthew Smith has a passion and love for God's Word and for God's people. He lives to equip God's church and He uses many of his God-given talents to galvanize, energize and equip the body of Christ. Dr. Smith not only has the brilliant mind but also a humble heart. The best sermon I heave heard him preach is the life he lives. He is a loving father, family leader and a leader in the faith community. I recommend him without hesitation."
By Daniel Mehrabian, researcher at Araratministries, (Greater Los Angeles Area)
Biblical leadership, passionate evangelism and discipleship, a missional heart and lifestyle, authentic personal relationship with God – Dr. Smith will come to your church or organization and speak on any of these areas. We have open dates in April, May and June and would love to talk with you about making your meeting, event or worship service a special time of growth, joy and inspiration. For more information, contact us at admin[at]EaglesInLeadership.org (of course, remove the [at] and replace it with @). We look forward to your email!