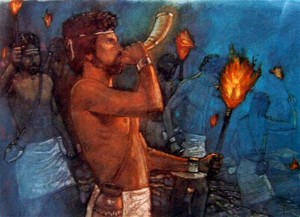 A Study of Gideon, "Mighty Man of Valor"
Judges 6-7
Editor's Note: We continue our series of blogs for those who are reading the Bible with us cover-to-cover this year. Interspersed with our thoughts on our daily reading, we want to provide some tips about reading the Bible in general.
We all know what fear in leadership is all about. One of the classic examples of fear trapping a leader is found in the book of Judges. When we come on the scene, Gideon is hiding while processing wheat for fear the Midianites would see the harvest and pounce on it and him.
In the midst of this stealth operation, God shows up and says, "The Lord is with you, O mighty man of valor." (Judges 6:12, ESV) Gideon isn't buying the line and counters the angel …
"Please, sir, if the Lord is with us, why then has all this happened to us? And where are all his wonderful deeds that our fathers recounted to us, saying, 'Did not the Lord bring us up from Egypt?' But now the Lord has forsaken us and given us into the hand of Midian." (Judges 6:13, ESV)
At this point, you can see Gideon's point: God forsook us, that's why I'm in hiding here! Now note the strange response of the Lord: "Go in this might of yours and save Israel from the hand of Midian; do not I send you?" (Judges 6:14, ESV)
Lesson 1: When God calls us, he sees us as we will be, not as we are!
When Gideon objects, the Lord tells him: "But I will be with you, and you shall strike the Midianites as one man." (Judges 6:16, ESV)
Lesson 2: When God calls us, he goes with us!
In order to conquer his fear, Gideon asks for a sign of assurance. God prescribes an offering on a rock. Gideon complies and the Lord touches the offering with his staff and it is consumed with fire. "Then Gideon perceived that he was the angel of the Lord. And Gideon said, "Alas, O Lord God! For now I have seen the angel of the Lord face to face." But the Lord said to him, "Peace be to you. Do not fear; you shall not die." " (Judges 6:22–23, ESV)
Lesson 3: When God calls us, he is willing to relieve our fears by granting us a sign!
With such a powerful sign, you would think Gideon's fears would be relieved, but, when God gives him his first mission, Gideon complies by destroying his own father's idol of Baal at night with ten friends. Amazingly, Gideon's father defends him for his action and tells them that Baal should be able to defend himself.
Lesson 4: When God calls us, he provides surprising support from important people!
From that day forward, Gideon's new nickname was, "Let Baal contend against him." (Judges 6:33, ESV)
Lesson 5: When God calls us, he provides a name and the fame for the mission!
Soon the enemies of the Israelites come in droves and Gideon, knowing what he must do, is scared stiff. He asks for a sign, and then another one. BOTH of these signs are GRANTED by the gracious and merciful God, because God longs to pull out the valor He sees in Gideon.
Lesson 6: When God calls us, he will do what it takes to assure the leader of His presence and power!
Ultimately, Gideon is told to whittle down the massive troops of Israel to 300, so that God will get the glory when the victory comes. Gideon's fear level rises again and God proposes a quiet trip to the camp of the enemy.
"When Gideon came, behold, a man was telling a dream to his comrade. And he said, "Behold, I dreamed a dream, and behold, a cake of barley bread tumbled into the camp of Midian and came to the tent and struck it so that it fell and turned it upside down, so that the tent lay flat." And his comrade answered, "This is no other than the sword of Gideon the son of Joash, a man of Israel; God has given into his hand Midian and all the camp." As soon as Gideon heard the telling of the dream and its interpretation, he worshiped. And he returned to the camp of Israel and said, "Arise, for the Lord has given the host of Midian into your hand." " (Judges 7:13–15, ESV)
Gideon is victorious and destroys the armies of the enemies of Israel as a result, commanding his troops to shout out these words as they attacked: "For the Lord and for Gideon." (Judges 7:18, ESV)
Lesson 7: When God calls us, he will do what it takes for us to become what He has seen in us all the time!
Gideon finally saw what God saw in him: He WAS a mighty man of valor.
What does God see in you and what has he been doing in your to confirm what he sees?
I'd love to hear about it!
It is our hope that this background information helps a bit as you read on in the Bible.
For daily insights into the passage we are reading together each day, you can follow Dr. Smith on Twitter and on Facebook.
You can obtain more help from the FREE Bible reading schedule on our resource page. In His Image is a daily devotional that also follows our reading schedule and expresses the Biblical truth: "God Created You to Love You." You can find this resource on the side bar of our website.
You Can Book Dr. Smith For Your Meeting or Event!
"Dr. Matthew Smith has a passion and love for God's Word and for God's people. He lives to equip God's church and He uses many of his God-given talents to galvanize, energize and equip the body of Christ. Dr. Smith not only has the brilliant mind but also a humble heart. The best sermon I heave heard him preach is the life he lives. He is a loving father, family leader and a leader in the faith community. I recommend him without hesitation."
By Daniel Mehrabian, researcher at Araratministries, (Greater Los Angeles Area)
Biblical leadership, passionate evangelism and discipleship, a missional heart and lifestyle, authentic personal relationship with God – Dr. Smith will come to your church or organization and speak on any of these areas. We have open dates in April, May and June and would love to talk with you about making your meeting, event or worship service a special time of growth, joy and inspiration. For more information, contact us at admin[at]EaglesInLeadership.org (of course, remove the [at] and replace it with @). We look forward to your email!