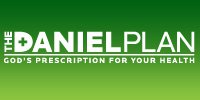 It was 12 weeks ago when I started the Daniel Plan – January 1st, 2011. 6 months earlier, on June 1st, 2010, I had made a commitment to lose 50 pounds in 52 weeks. By November, I realized I had been struggling a lot, and the holidays coming wouldn't help. I had lost less than 16 points in 5 months and was way behind to reaching my goal by June 1st.
All this started when I realized that my health was deteriorating. A call from the doctor while in Chicago telling me about some tests I needed to take to find the cause of some abnormal blood panel numbers got me thinking. (It turned out I had a fatty liver – not a good thing!)
I knew I needed to lose the 85 pounds I had put on, but willpower alone, even with the weekly weigh-in chart on the bathroom mirror, hadn't been enough. I needed help and I knew it.
That's when my pastor, Rick Warren, shared the Decade of Destiny vision he had for our church, the plans for the New Year, and the Daniel Plan. I was a part of the Daniel Plan from the first moment! With each week of the Daniel Plan, I have learned so much about health, weight, processed foods, disease and imminent premature death from my lifestyle choices.
So, I decided to share a bit from time to time in this blog, and encourage you to consider what you could do for the Kingdom of God with more energy. Today I want to start talking about how I've lost 29+ pounds since January 1st, 2011 on the Daniel Plan (making my total weight loss since June 1st, 2010 over 47 pounds).
Just Don't Put It In My Mouth!
One of the first things I learned was, if you don't eat it, it won't hurt you! (Duh!) But what shouldn't I eat? Let's start with the whites …
White sugar – instead, use Stevia products
White flour – instead, use whole wheat flour

sparingly

White rice – instead, use brown rice
Each of these white products adds to your weight and metabolizes into sugars – which are sources of diabetes, and a host of other diseases. These simple changes were the first to cause my weight to come off!
As the weight dropped, I found that I have more energy, sleep better and my moods are sweeter. (Who would have known food could make you cranky?)
I'll share more about these things in other posts. And, oh yeah, total strangers stop me on the street – two today alone – and comment on my weight loss and how good I look. That's a nice side benefit!