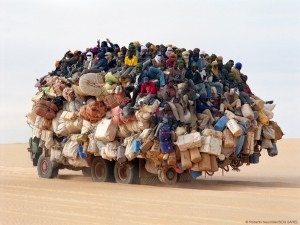 Editor's Note: We continue our series of blogs for those who are reading the Bible with us cover-to-cover this year. Interspersed with our thoughts on our daily reading, we want to provide some tips about reading the Bible in general. Today we want to explore …
Traveling Light
As you probably know, the airlines are limiting and charging for the bags you bring along on your plane trip. Melodee and I made sure that we did not take too much luggage.  However, this does remind us of the most important travel tip we can give you. Whether you're traveling to Hawaii, through life or through your Bible, you must travel light.
That is why we have mentioned so few traveling items.  Along the way in your journey through the Bible it is quite possible that you will leave some baggage behind. What baggage would you possibly leave behind?  It is our hope that you will leave behind:
–      Bitterness. One of the main reasons that God has communicated through the Bible is to tell you that life can be full of joy! The past can be forgiven and overcome.  Consider these words from David, past king of Israel:
Psalm 16:11
You will show me the path of life; in Your presence is fullness of joy; at Your right hand are pleasures forevermore.
–      Anger. Anger is the cancer of the sole.  It burns like a fire. It destroys like a disease.  The Bible says that anger is learned.  And since anger is learned it can also be unlearned. Consider these words written by Solomon, past king of Israel:
Proverbs 22:24-25
Make no friendship with an angry man, and with a furious man do not go, lest you learn his ways and set a snare for your soul.
–      Worry.  Some estimate that up to 80 percent of all physical diseases and illnesses are triggered or enhanced by worry. Yet worrying can be cured! The Bible says,
Philippians 4:6-7
Be anxious for nothing, but in everything by prayer and supplication, with thanksgiving, let your requests be made known to God; and the peace of God, which surpasses all understanding, will guard your hearts and minds through Christ Jesus.
–      Selfishness. The destruction that comes from selfishness is not apparent at first.  Often it takes years to reap the harvest that eventually will come. However, tell-tale signs do become evident along life's journey. A lack of friends can be the visible sign of a future filled with loneliness.  The Bible will encourage selflessness. Consider these thoughts from the pages of the Bible:
Proverbs 18:24
A man who has friends must himself be friendly, but there is a friend who sticks closer than a brother.
Matthew 22:39
"You shall love your neighbor as yourself."
1 John 3:11
For this is the message that you heard from the beginning, that we should love one another.
–      Judgmentalism. Being critical and judgmental repels people from us. It sends our adult children to distant states, seldom calling or caring. At night our phone and doorbell does not ring.  The more we've put others down the less they want to be with us.  Jesus counters this attitude with these words:
Matthew 7:1-2
"Judge not, that you be not judged. For with what judgment you judge, you will be judged; and with the measure you use, it will be measured back to you."
–      Lack of forgiveness. Forgiveness is at the center of the very fabric of relationships. Without forgiveness we simply cannot develop close friends.  In developing forgiveness, there is no greater model than God. He provides forgiveness to anyone who asks. He is the model of tremendous forgiveness. In a discussion with one of his followers, Jesus told Peter these words:
Matthew 18:21-22
Then Peter came to Him and said, "Lord, how often shall my brother sin against me, and I forgive him? Up to seven times?" Jesus said to him, "I do not say to you, up to seven times, but up to seventy times seven."
–      Confusion. Troubled? Having difficulty in life?  Worn out, struggling, unsure of what to do?  God promises answers in the Bible! He gives direction through the Bible.  The examples we read about in the Bible provide valuable insight.  The experiences of others give understanding to life. Consider these words from the Bible:
Psalm 19:7-11
The law of the LORD is perfect, converting the soul; the testimony of the LORD is sure, making wise the simple; The statutes of the LORD are right, rejoicing the heart; the commandment of the LORD is pure, enlightening the eyes; The fear of the LORD is clean, enduring forever; the judgments of the LORD are true and righteous altogether.
More to be desired are they than gold, yea, than much fine gold; sweeter also than honey and the honeycomb. Moreover by them Your servant is warned, and in keeping them there is great reward.
There you have it.  All the preparation you need to journey through the Bible.  And that is where we are – journeying through the Bible!
It is our hope that this background information helps a bit as you read on in the Bible. We will continue this series with our next installment: "How to Pack for our Journey Through the Bible" on Sunday when we talk about "What Camera Will You Take on the Journey?"
For daily insights into the passage we are reading together each day, you can follow Dr. Smith on Twitter and on Facebook.
You can obtain more help from the FREE Bible reading schedule on our resource page. In His Image is a daily devotional that also follows our reading schedule and expresses the Biblical truth: "God Created You to Love You." You can find this resource on the side bar of our website.
It is our hope that this background information helps a bit as you read on in the Bible. We will continue our study through the Bible with our next installment: "God Postpones Israel's Invasion Plans" on Thursday.