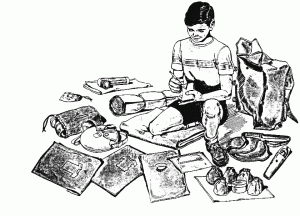 Editor's Note: We continue our series of blogs for those who are reading the Bible with us cover-to-cover this year. Interspersed with our thoughts on our daily reading, we want to provide some tips about reading the Bible in general. Today we want to explore …
How to Pack For The Journey Through Our Bible!
I can give you a six-word formula for success: "Think things through – then follow through."
–   Edward Rickenbacker
Man never plans to be failures; they simply failed to plan to be successful.
–   William A. Ward
Sometimes it is not good enough to do your best; you half to do what's required.
–   Sir Winston Churchill
As our 20th anniversary trip to Hawaii approached, we were anticipating our days with great joy.  Soon our attention turned from anticipation to planning to pack.  What would we take, what would we need?  As we thought through these questions, a simple reality came into view: Pack only the things that are needed while we were there.  So we had to ask ourselves, "What will we be doing in Hawaii?" Once we mapped out our anticipated activities in Hawaii, packing became very simple. Among the things we would need were,
–       Suitable clothing
–       Any particular equipment necessary
–       Our camera
–       Traveling light
The same is true when we consider a trip through the Bible. When traveling through the Bible, we will need to pack:
–       Suitable clothing – these will be the attitudes that will clothe us as we journey
–       Any particular equipment necessary – this will include the necessary tools (books) that we will need in our exploration
–       Our camera – by this we refer to our means of recording our journey as we go
–       Traveling light – of most importance, we want to be sure not to pack too many items because we will have to carry them our entire journey
Let's start packing!
Suitable Clothing
Since Hawaii is a tropical paradise whose average temperature is 80 degrees, we left our heavy jackets at home.  And we didn't need our snow boots. As we packed for Hawaii, we filled our suitcase with shorts, short sleeve shirts and blouses, and our swimsuits.
When traveling through the Bible, it is not what you wear on your body that makes for suitable clothing.  Since we're taking a spiritual journey, we will be clothing our soul or spirit.  We do that by putting on certain attitudes.  What attitudes do we need to put on in order to journey through the Bible?
–      Teachability – this attitude allows us to sit as a student and learn.  When we possess this attitude, we reserve judgment for later.  It is a key attitude necessary in every important endeavor in our lives. How much more so as we journey through the Bible? David, the writer of Psalm 119, demonstrated this quality when he asked God:
Deal with Your servant according to Your mercy, and teach me Your statutes. I am Your servant; give me understanding, that I may know Your testimonies. (Psalm 119:124-125)
–      Humbleness – this attitude reflects a second side of teachability. When we possess this attitude, we submit to the leadership of another.  In our journey through the Bible, we are submitting to the leadership of the text.  We simply are willing to listen, to read and postpone taking charge as we read.  Much like when we allow another person to drive us to a new destination, we submit to their route. Humbleness is a key attitude in God's eyes. Listen as he says,
But He gives more grace. Therefore He says: "God resists the proud, but gives grace to the humble." (James 4:6)
–      Curiosity – far from setting your mind in idle and coasting through this journey, you will need to be very curious.  If one of your main objectives is to get to know God in this journey, you need to know that he has left clues all along the trail.  These clues were not left for the feeble-minded.  They were left for the very curious, the very diligent seeker.  Consider these words attributed to God,
And you will seek Me and find Me, when you search for Me with all your heart. (Jeremiah 29:13)
–      Reverence – this is the attitude that expresses how valuable someone or something is to us.  Reverence is what we express when we date our spouse, set-aside a day for our family, or go to a house of worship.  We must be certain that we treat this journey as being very special to us.  If we're going to invest a portion of our lives in the pursuit of understanding the Bible, it must be given the respect it is due.  We need to keep this attitude in the forefront as we journey.
–      Open-mindedness – you will not agree with everything that you read as you journey through the Bible.  That is not necessary.  What is necessary is that you keep an open mind.  Since you have picked up the Bible to expand your spiritual horizons, just allow the story to unfold in its own way.  Being critical seems to be a gift for some people.  Remember what one person observed:  "Any fool can criticize, complain and condemn; and most fools do!"  In our journey we are trying to get an overview, the big picture.  Staying open-minded will allow you not to stumble over smaller issues and items until you see the whole picture.
–      Patience – amongst the greatest attitudes needed is the attitude of patience.  We will look at a book that is, in reality, 66 books put together over 1500 years, from no less than six major cultures.  It will be impossible for you to gather and glean everything that you desire in your first journey through the Bible.  Being patient with your self, making notes for future study, and enjoying what you do understand and see are key elements on this trip.
It is our hope that this background information helps a bit as you read on in the Bible. We will continue this series with our next installment: "How to Pack for our Journey Through the Bible" on Tuesday when we talk about "Equipment for the Journey."
For daily insights into the passage we are reading together each day, you can follow Dr. Smith on Twitter and on Facebook.
You can obtain more help from the FREE Bible reading schedule on our resource page. In His Image is a daily devotional that also follows our reading schedule and expresses the Biblical truth: "God Created You to Love You." You can find this resource on the side bar of our website.