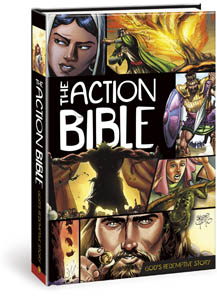 Wow! That was my first reaction when I saw The Action Bible in the store. As I read through this graphic novel version of the Bible, I was pleased and excited to see how David C. Cook has brought the Bible to life for us.
As I read The Action Bible I saw the history and chronology of the Bible in new ways. There are 215 fast-paced narratives in chronological order, making it easier to follow the Bible's historical flow and reinforcing the build-up to its thrilling climax.
This is definitely a Bible whose time has come. Introducing young readers to the grandeur of the Word of God it allows them to grasp the story line of God's love and redemption in a clear and – pardon the pun – graphic manner!
You will love the way, internationally recognized artist Sergio Cariello has created

attention-holding illustrations marked by rich coloring, dramatic shading and lighting, bold and energetic designs, and emotionally charged figures.
I really enjoyed this Bible, and I have read over a dozen versions of the Bible cover-to-cover. Pick up a copy for all of your young family members – and a few for those who are "young at heart" as well. They'll really enjoy this!
You can order your copy of The Action Bible here.
You can access more information about The Action Bible here.
You can learn more about Sergio Cariello here.