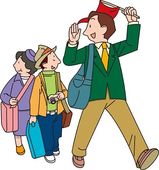 Editor's Note: We continue our series of blogs for those who are reading the Bible with us cover-to-cover this year. Interspersed with our thoughts on our daily reading, we want to provide some tips about reading the Bible in general. Today we want to wrap up our exploration of how we can make the journey through the Bible from cover-to-cover easier.
We are looking at the eight key factors that can make our journey through the Bible much easier. Our journey will become easier when we consider:
Our Travel Companion(s)
Obviously, when going on our anniversary honeymoon, Melodee and I have already chosen our travel companion! Because we have taken the journey of life together, each other's company along the way has already enriched our lives. When she is on a trip with me, any trip, I see so much more and enjoy myself so much more. Her presence brings new eyes, new perspectives, new passions, new ideas and a whole new vitality to the trip.
Making the journey more enjoyable requires a good friend to travel with. When you travel through the Bible, you really should seriously consider
Taking a companion – someone you enjoy being with and enjoy what they already have added to your life along the way. This will allow you to find a person who is an asset, and remove people who are liabilities on your journey.
Taking along several companions – we suggest people with whom you share common interests and experiences. Much like a group tour, these people will be able to enhance your travels by seeing many more places from many more vantage points than one or two sets of eyes can provide!
Our Guide
If Melodee and I were interested in exploring the islands more in depth on our first trip, we would probably hire a guide, at least half-day or day guides. Finding a great guide, one who understands the local perspective, reaps untold rewards guidebooks will never provide the first time traveler!
That's what you have picked up this book! We are your guides! We will do our best to help you see and hear, taste and touch as much as is possible in an introductory book of this nature.
But there is one guide who can help you even more than we can: God Himself. Now I don't want to get mystical on you. Yet, if you have picked up this book – the Bible – then you must realize already that it will speak of Him in personal terms. Consider this one statement from Him:
Thus says the LORD who made it, the LORD who formed it to establish it (the LORD is His name): "Call to Me, and I will answer you, and show you great and mighty things, which you do not know." Jeremiah 33:2-3 (New King James Version)
When you begin to travel, we suggest you simply honor God's request. Ask him to show you great and mighty things that you do not yet know about. After all, isn't that the real reason any of us pick up a Bible?
It is our hope that this background information helps a bit as you read on in the Bible. We will continue this series with our next installment: "The Book of Leviticus" on Tuesday.
For daily insights into the passage we are reading together each day, you can follow Dr. Smith on Twitter and on Facebook.
You can obtain more help from the FREE Bible reading schedule on our resource page. In His Image is a daily devotional that also follows our reading schedule and expresses the Biblical truth: "God Created You to Love You." You can find this resource on the side bar of our website.