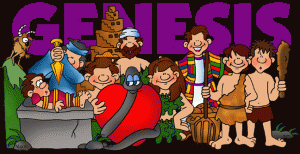 Editor's Note: We continue our series of blogs for those who are reading the Bible with us cover-to-cover this year. Interspersed with our thoughts on our daily reading, we want to provide some tips about reading the Bible in general. Today we want to review what we have covered so far in Genesis …
When Melodee and I traveled to Hawaii, our desire was to make sure we got the most of out of our days that is of personal interest to us. With that in mind, we set out a framework of what we wanted to accomplish on the first day or so on. This became the foundation of what we did with the rest of our time.
So, too, it is with our journey through the Bible. Our first book laid out a great deal of foundation for the rest of our journey, so we want to be careful we mapped it out first. As a result, this blog is a review of what we have found so far in reading the first book of the Bible, Genesis.
By way of review, we have noted that we are traveling on:
Major Old Testament Route No. 1:
Forming the first five books of the Bible.
On this route we will explore approximately 2,400 years of the formation history for the nation of Israel. Our first route was written as a diary or journal of the actual travels of the people of God in the Old Testament. These five books are their history books.  As we travel on this route, we will be following the original journeys as they unfold, often as if we were participants in the event. We now look at:
Review: The Book of Genesis, The Book of Beginnings.
(About 2,300 years)
God Began It All In The Beginning! (Genesis 1-11)
Beginning Of The Earth and The Universe (Genesis 1-2)
Beginning Of Mankind In The Garden of Eden (2)
Beginning Of Death and Destruction In The Fall (3)
Beginning Of God's Intervention With The Flood (4-10)
Beginning Of The Nations With The Tower Of Babel (11)
God Continues Through A Family! (Genesis 12-50)
Abraham Becomes The Father Of Faith In God (12-25)
Isaac Continues The Next Generation Of Faith (21-28)
Jacob Expands The Family Tree Of Israel (25-49)
Joseph Provides For The Family In Egypt (30-50)
It is our hope that this background information helps a bit as you read on in the Bible. We will continue this series with our next installment: "The Book of Exodus" on Sunday.
You can obtain more help from the FREE Bible reading schedule on our resource page. In His Image is a daily devotional that also follows our reading schedule and expresses the Biblical truth: "God Created You to Love You." You can find this resource on the side bar of our website.