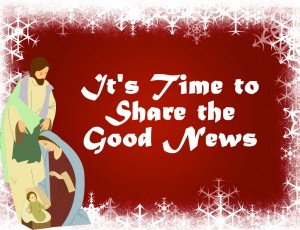 We're starting a new series this week called "It's Time for Christmas." I know those are words that speak panic in some of your hearts and lives.  It's about shopping.  It's about things that need to be done and haven't gotten done.  I just want to say as we begin and admit together that sometimes this time of the year is the time we realize we've got a big month in front of us and often times it doesn't work out like we want it to.  Let's just be honest about that at the beginning.
But oftentimes we face this month of the year and think, "How's it going to go?  What kind of month is it going to be?"

Let me tell you the goal of this series the next few weeks. The goal is a better December, a better December than you've ever had before.  You may have had some great Decembers but it could be better.  You may have had some rotten Decembers and you may be thinking it's going to be a rotten one this year.  It does not have to be that way.  It can be a better December because the true news about Christmas is the good news about what God has done.  This is different than any other season.  Why not make it the best season?  This month we're going to talk together about some choices I can make – you can make – that we can make to enjoy this December like never before.
You can follow along by getting the message notes here.