Preorder your very own autographed copy of "Growing Missional Leaders", signed by the author (Matthew Lee Smith)!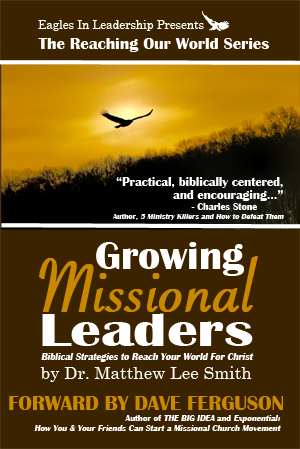 This special edition will only be available for a short time, so order now!
Growing Missional Leaders is a practical, passionate, Biblical mentoring journey for individuals, small groups, leadership teams and congregations who desire to win their world for Christ. Readers will appreciate the enthusiastic and Spirit-filled hope God provides as Matthew tells stories – of lost opportunities and successes with friends – that give powerful, encouragement of personal and corporate outreach; opens Bible passages – again and again – showing God's heart is to bring his lost children home; and provides stimulating discussion questions – at the end of each chapter –providing the stepping stones to launching fresh ministry into your community.
Believers hungering to reach their world for Christ will be energized by this passionate call to fulfill Christ's Gospel and the invigorating manner in which their thought processes will be stretched to God-sized proportions.
Matthew Smith, pastor of multi-ethnic and multi-generational churches in urban, suburban and rural communities from Miami to Los Angeles, presents twenty-four Biblical strategies to invigorate and facilitate Christianity's marching orders  – the Great Commission – in your community.
Forward by Dave Ferguson, author of The Big Idea and Exponential: How You & Your Friends Can Start a Missional Church Movement, http://DaveFerguson.org

What Others Are Saying About "Growing Missional Leaders"
Missional has become a buzzword stamped almost everywhere and anywhere but in his most recent book Growing Missional Leaders Dr. Matthew Smith takes us on a journey to rediscover just what it means to be "MISSIONAL"! Dr. Smith helps the reader understand how to BE missional and to LEAD missional with stories that inspire and questions that challenge. I've seen first hand that what Dr. Smith espouses with his pen he lives with his life. Growing Missional Leaders is a great place to start for any leader who has a desire and passion to make a kingdom impact!
~ Troy Gramling, Lead Pastor, Flamingo Road Church (Cooper City, FL) http://www.flamingoroadchurch.com
#32 in Outreach's 100 Largest Churches in America
Practical, biblically centered, and encouraging … Growing Missional Leaders fits the bill on all three. If you want to become better at fulfilling God's call in your life, then read this book. Dr. Smith packs 24 helpful principles into short, easy-to-read chapters easily used with groups or for personal reading.
~ Charles Stone, Senior Pastor, Ginger Creek Community Church (Aurora, IL) http://www.gingercreek.org
Author, 5 Ministry Killers and How to Defeat Them
"If you are a pastor, youth minister, missionary, parent, teacher, coach…or in general a CHRISTIAN…then you honestly need to read this book by Matthew Smith. It is Biblical, building on leadership principles from scripture. It is practical, offering common-sense ideas and strategies. It is readable, using illustrations, stories, and applications in easy-to-read chapters. Most importantly, it calls us back to living life on mission with God and then tells us how to go about it. Get one for you, and go ahead and get one for all your friends that you love and respect. It really is that good and that helpful."
~ Clayton King, http://www.claytonking.com/
Founder of Crossroads Ministries (Shelby, NC) http://www.crossroadsworldwide.com/
Teaching Pastor Newspring Church (Anderson, SC) http://www.newspring.cc
Author, Dying to Live, Abandoning Yourself to God's Bold Paradox
Product Details
Softcover: 162 pages
Product Dimensions: 6 x 9 inches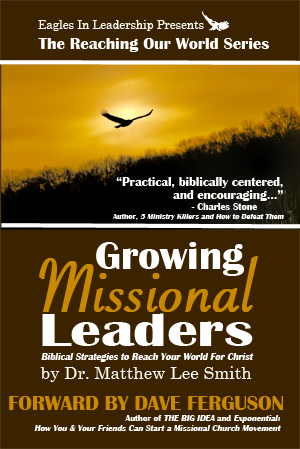 $15 + $5 Shipping [wp_cart:Autographed Copy of "Growing Missional Leaders":price:15:end]
Click "add to cart" then scroll down to finish your order through Paypal.
Please allow up to 4 weeks for shipping.
If you'd like a special autograph (i.e. signed to you or someone else) please add that to the notes on your PayPal payment. Otherwise you'll just get a signature.
SORRY THIS IS ONLY AVAILABLE FOR SHIPPING WITHIN THE UNITED STATES.
If you have any problems with this please contact Matthew at pastormatt-at-EaglesInLeadership.org