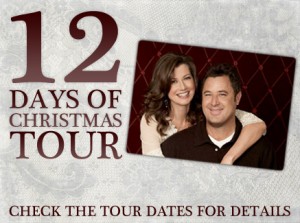 Our own Mike Powers caught up with Amy Grant as she shared that she will once again bring fans some musical holiday cheer this Christmas season. The festive couple (Vince Gill and Amy) are planning a 12 Days of Christmas tour, hitting 11 cities this December.
Vince and Amy launched their first holiday tour together back in 2001, when they were newlyweds. It's become a tradition Vince looks forward to each year.
"The job of spreading Christmas cheer has simply gotten too big for Santa and Rudolph to do alone. So Amy and I are pitching in," he joked before their 2008 holiday shows. "Besides, these holiday tours have become our favorites."
The tour's set-list is certain to be robust, as Vince and Amy have recorded ten holiday albums between the two of them.
As they prep for their Christmas trek, both husband and wife have a lot on their plates during this second half of the year. Vince is sitting in the producer's chair for LeAnn Rimes' new CD of love songs popularized by male singers, while Amy spends some time on the road this fall as part of her Pieces Of Our Lives acoustic tour.