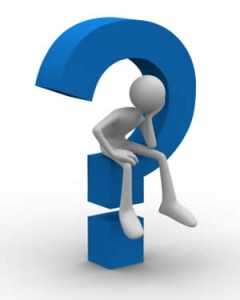 Recession – layoffs – tightening budgets. All three of these are now very familiar at the Smith home. As I enter my seven-month without a full-time paycheck, I stopped this past week to reflect on the bounty and reality of God's presence in our lives.
Since I am a career pastor, I am not eligible for unemployment. The churches I have had the privilege of leading have not participated in that program, classifying me as a 'self-employed' worker.
Yet, without a steady fulltime income, God has been amazing. And this reality has brought me to a startling realization …
What do those without faith do in times like these?
As I thought more, I came to four conclusions in this realm.
1.     Those without faith have no God to trust in.
If you are alone, apart from a God who cares and intervenes in your life, where do you go? How do you keep your sanity and remain at peace in the midst of the mess? Amazing God – that's who I trust in. Some examples?
In 'one of the coldest summers on record' in Southern California, God has made it so that we have had to only run the AC at home 6-8 days all summer! In that same home, God has moved the heart of our unsaved landlord to cut our rent by almost 60% – starting this past March and extending until mid-January 2011! And God has allowed us to receive $125 in rewards cards from our bank for using our credit and debit cards (paying the credit cards off at the end of each month to our bank's total loss).
Since we continue to tithe and give sacrificially to the needs of others, we claim Philippians 4.19 in faith: "And my God will supply every need of yours according to his riches in glory in Christ Jesus" (ESV).
Another conclusion …
2.     Those without faith have no spiritual family to work with.
Granted, most of us have some nuclear or extended family to help us out from time to time. But that can get old fast and their resources may not be any better than ours in our time of need. We have watched God provide for us from members of the body of Christ from Florida to California in these times of need. He has moved in the hearts of three people to give almost $1,000 in one week this last month to meet very urgent needs! (One friend reminded us that it was fitting that we had recently received $500 to help pay our rent from a sister in Christ since last year we had sent them a check for $500 for their mortgage in a particularly difficult time.)
And did I mention I love steak? On August 24th I tweeted, "Just back from a wonderful dinner at Outback, compliments of good friends Tom and Hope Reed. Good friends, good food and good fellowship!" Their words of love and their extravagant generosity fed our stomachs and our souls!
A third conclusion is …
3.     Those without faith have no Word from God to feed on.
As I reflect on God's perpetual care for us, repeatedly it is His Word that brings amazing hope and help. Each morning's devotions seem to bring a new thought, a new hope or a new word of encouragement.
When I have been tempted to whine and complain, it has been God's Word that pulls me back and keeps me on track. Consider this recent tweet: "ACT LIKE DAD! I didn't say any of this on my own. God sent me & told me what to say. You've been listening 2 God speak, not Jeremiah." (Jer. 26.15, Msg).
The richness of the living Word of God sustains me when I drift into worldly complaint or criticism.
And finally,
4.     Those without faith have no Spirit to comfort from.
At a recent pastor's meeting a friend of mine asked me point blank, "Why aren't you freaking out?" I told him what I tell everyone … I have served Him for 30+ years and he has never let me down. Why should I doubt him now?"
It is in the quiet hours, the dark hours before I fall asleep that the Spirit speaks. In those hours, when I pour my heart and soul out before God – asking, 'When and what should I be looking at? Where is Your hand moving and what do you want me to be doing?' – in those times, the Spirit comes alongside and shares his love and care, God's presence and power at work behind the scenes.
One night awhile back, I told the Lord the bills were now his problem! I had sent out lots of resumes, only to either never hear anything or get the 'Thanks, but no thanks' responses. As I explained to God, I would keep being faithful sending resumes and following leads, but our financial needs were his problem now, the Spirit said, "Your financial needs have ALWAYS been my problem. You work for me. You've given your whole life for me. I've got you covered!"
Peace and rest came over me at that moment and has remained ever since.
So, what do those without faith do in such times? I am not sure, but it motivates me to share God's amazing story and invite them into a personal relationship with him. How about you?