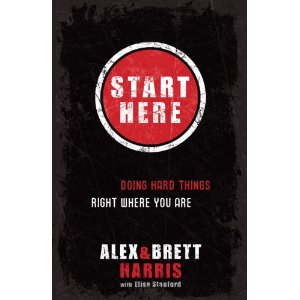 Practical, encouraging, personal and inspiring describes Alex and Brett Harris' new book, Start Here. Making the most of your teen years is what this book is all about! As a teen, watching God start a two-decade long revival in my little town in Wisconsin, I can only say, Start Here! provides so many helps so that any teen can accomplish all that God desires them to do – especially the hard things!
Having been a part of the home-school revolution and receiving incredibly Biblical and practical guidance from Alex and Brett's parents, Gregg and Sono Harris, one can see the fruit of this godly family tree fleshed out in the mission of God for the next generation throughout every page of this vital book.
Mixing practical steps with biblical wisdom, Start Here lifts the heart and opens the eyes so that hope is birthed and nourished. Each chapter unfolds not only the 'how to' but also the 'have done' hard things stories of teens and college age adults.
This is a book every teen should read and use as a guide for this season of their lives. (Hint: Many adults could benefit from the wise words found within the cover of this easy to read book.) Buy a dozen or more copies and hand them out to teens, college age adults, youth leaders and pastors and watch the amazing things God does through the next generation for Christ!
For more information and to order the book from Random House, or from Amazon
Would you like to receive a FREE copy of the book, Start Here?

To celebrate the launch of Start Here, we're offering you an opportunity to win a FREE copy of the book. One lucky reader will win a copy of Start Here!
Main Entry: (you must complete this entry in order to participate, otherwise all other entries will be disqualified)
Contest closes April 9th, 2010

Entries:
1. Tweet this review using the text below with your Twitter handle or on your Facebook page:
Win a FREE copy of 'Start Here' by Alex & Brett Harris at http://EaglesinLeadership.org from Waterbrook: http://bit.ly/s7nKJ
Leave a comment on our site with your twitter handle.
2.  Subscribe to us via email … (leave a comment to say you did so)